Forensics prepares for state competition
Lansing High school forensics has a busy weekend in store.
Friday and Saturday, about 35 LHS students will compete at the State Speech and Drama Festival at Kansas City Kansas Community College and the State Speech and Drama Championships at Highland Park High School in Topeka.
Students attending the competitions qualified by placing at tournaments earlier this year.
Though the festival and championships are both state tournaments, they are run differently, forensics coach Ken Church said.
At the championships, students compete directly against each other, and only the top six contestants in each category earn medals. Because more students qualify than he can take to the championships - the limit is 16 per school - Church said he chose students who liked to compete as well as perform. Church said the championship tournament would help to gauge how Lansing fares against other schools.
"We want to see how we rank against other people," he said. "The way the whole team does is really the measure of success."
Last year, Lansing placed second as a team at the 4A state championships. This year is the first year that Lansing will compete as a 5A school. Co-captain Jerrad Willis said he thought the change to a larger school classification would be to Lansing's advantage because "4A is a little harder than 5A," he said.
Willis, a senior who will compete in poetry and prose, said he thought LHS had a good chance of earning first place at the state tournament.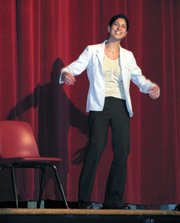 Other students who will compete at the championships on Saturday are seniors Tanner Couvelha, co-captain Christine Southard, Brittany Bradley, Elena Stephenson, Ashley Kings and Katie Lowe; and juniors Brian Butler, Stephen Fischer, Sean Wooley, Jenna Fausett and Stefan Dumlao.
At the state festival, in contrast to the championships, students who perform receive a rating, such as 1 or 2, but they do not compete against each other. All students who earn 1's receive gold medals, Church said.
The festival includes a category for one-act plays, in which LHS will perform "The Old Lady Shows Her Medals" by J.M. Barrie. Church said he wanted to "revive an old tradition" by performing in the one-act contest after an absence of several years.
Church said this play was a hard one to perform because each character must have a unique accent. He said it was even more impressive that the play had qualified for the state festival because the actors are fairly young - the cast includes three freshmen, two sophomores and one junior.
The contest for one-act plays is Friday night. Freshmen Megan Wood, Alex Tremble, Kristin Brandt, sophomores Matt Fischer and Rachel Serena and junior Sean Wooley all will perform in the play. The crew includes freshmen Natalie Jones and Lauren Judy and junior Demarin Montgomery. Senior Ashley Kings is the assistant director of the play.
Students who will compete in individual events Saturday at the festival are senior Maurice Doniphan; juniors Guy Gardner, Brandon Rimmey, Neva Kelloff, Matt Peterson, Matt Humphreys and Miranda Nichols; sophomores Michael Brooks, Matt Fischer, Lauren Summers and Elizabeth Grady; and freshmen Danielle Glynn, Cara Rude, Eric Hansen and Patrick Dolan.