During, after school, he puts in the work
Jake Taylor is the vice president of the Lansing High School Science Club. He didn't have to do any campaigning - he was one of two students who showed up to an afterschool meeting, and he got his position by losing a game of Rock, Paper, Scissors.
But not all of his accomplishments have come by luck. Instead, most reflect the hard work he's put in during his high school career. In 2002, he was honored for the second-most volunteer hours at St. John's Hospital in Leavenworth.
Taylor, a senior, said he earned the hours by candy striping at the hospital during the summer. He said he and a friend decided to work at the hospital after seeing an advertisement for the position.
"Neither of us had a job, so we figured we could do something," Taylor said.
In addition to his extracurricular activities, Taylor has many academic accomplishments as well. He is a member of the Honor Roll, Kays and National Honor Society. He is also vice president of National Spanish Honor Society and the editor of the school newspaper, MainLine.
Taylor said he wasn't interested in the newspaper at first, but a teacher convinced him to join. He said he now enjoys the job, although he said he doesn't see himself pursuing journalism. Instead, he plans to attend Kansas State University in the fall and major in business.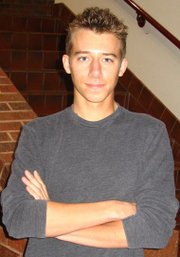 Being editor of MainLine provides Taylor the experience of management, which he said he'd like to pursue.
"I like management - I'm good at that," he said.
Taylor said he thought his management style on the newspaper was more effective than the previous model of co-editors. He also gave his staff credit for being dedicated.
"We work a lot more efficiently (this year)," he said.
At K-State, Taylor said he'd like to pursue studies in business management, investment banking or international business. He'd thought about investment banking since his sophomore year, he said, but he just learned about international business at senior day. He said international business piqued his interest and had gotten him thinking about studying abroad.
With all of his activities, Taylor - understandably - said he hasn't had much free time lately.
"Senior year's been very, very busy," he said.