Agency gives boost to youths
Tiny-K delivers therapy services to young across Leavenworth County
Alexis Shepard looks at her 2-year-old son and sees how Tiny-K Early Intervention Services has helped with the boy's development.
Lawyer Jordan was born with Down syndrome. He didn't have the withdrawn facial features usually associated with the chromosomal disorder, but his eyes hadn't opened by the time he was 10 days old. His first year, the toddler exhibited abnormally low muscle tone and was lethargic. He couldn't sit up.
Enter Tiny-K, an agency that provides therapy services to Leavenworth County children under the age of 3 at no cost to the parents. Lawyer is one of 15 children in Lansing being served by the agency; 90 children throughout the county are on Tiny-K's client list.
Nedra Mitchell, a physical therapist, and Amy Bristol, an early childhood intervention specialist, have made weekly visits to Shepard's Lansing Heights townhouse for most of the past year to help Shepard in Lawyer's development.
"They've just been wonderful," Shepard said.
One of the first tasks for Mitchell was to help Lawyer sit up. Lawyer just couldn't perform the seemingly simple task. With the Mitchell's assistance and the willingness of Lawyer's family members to work with Lawyer when a therapist or specialist wasn't around, the boy has mastered the task.
"He's really progressed," Mitchell said about Lawyer last week. "I can tell he's steadily come a long way."
Lawyer still is developmentally behind other toddlers his age - he's still learning to walk.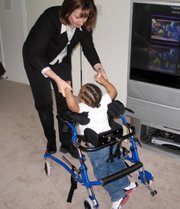 "Walking is not the most important thing developmentally," Mitchell said. "Language development, dressing himself, feeding himself, those are all areas that are necessary. But walking is so important to those tasks."
"At 35 pounds," Shepard joked to her son, "you've got to learn to walk some."
To that end, Tiny-K arranged for the donation of a specially designed walker for Lawyer's use. Kansas Medicaid had denied assistance to Shepard.
"He'll try it, but he's so independent and the walker's very restrictive," Mitchell said.
The Tiny-K representatives had high praise for Shepard, who holds down a job and also is the mother of a 9-year-old daughter, and Lawyer's extended family.
"For the family to be open to people coming into their home, occupational therapists, physical therapists, speech therapists, early childhood interventionists : it can be overwhelming for some families."
Shepard, who also meets with a support group of mothers facing similar challenges, knows there's work ahead with Lawyer.
"My first one didn't have a handicap, but it was a lot of work. This is really a lot of work," Shepard said.
Dawn O'Brien, director of Nurturing Families Inc., which operates Tiny-K for Leavenworth County, said the work of families with the clients is as important as the professional services the agency offers.
"Our goal is to be family centered and to support the family," she said. "We come in once or twice a week to assist, but we believe the child gets therapy all of his waking hours from his family.