Students learn about prejudice through 'wax museum'
Don't be afraid - the "wax museum" last week at Lansing Intermediate School was not meant to be like the new horror flick "House of Wax," although the characters at LIS were real people.
Carol Caplinger's fourth grade class presented what Caplinger called a "wax museum." Her students, many wearing costumes or holding props, stood silently with their heads down and waited for parents and other LIS students to walk through the room and push a circle pinned on their arms. When someone pressed the circle, the students lifted their heads and recited a speech they had memorized about the character they represented.
Students represented historical figures such as Helen Keller, Colin Powell, Ghandi and Jane Goodall. Caplinger said she wanted students to learn about people who had succeeded in the face of prejudice or opposition. She said the project began in Black History Month and expanded.
"I wanted them to know that not only Afro-Americans had problems," Caplinger said. "Many peoples have experienced prejudice. Many people have overcome their background."
Caplinger said she made a list of about 150 historical figures for students to choose from. The students researched their character to write the short speeches they presented.
Drew Poirier represented American baseball legend Jackie Robinson for the project.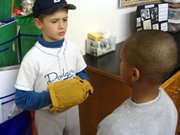 "I thought it was interesting that he could get himself into college back then," he said.
Caplinger said she started the project about nine years ago. She said some figures have proven popular with the students. She took Martin Luther King Jr. off the list, she said, because students chose him so often. She said she wanted her students to learn about someone new.