There's a new mayor in town
Bar owner takes the helm in Linwood
A jukebox screams, spits and hollers a raspy, grumbling 1970s rock song. Jet-black tables are wiped clean and polished to a dull shine. Stacks of crystal clear beer mugs, looking as if they've been dipped in Windex and hosed down with a power washer, rest upon the bar top.
The neon sign out front says "Open" and a cool afternoon breeze is blowing past the front door, but Steve Campbell's watering hole in downtown Linwood is as vacant as the streets of Tombstone at High Noon.
Quiet offers opportunity, and Campbell quickly takes advantage. He reaches behind the bar and grabs sheaflets of loose papers. Call the papers a Barkeeper's Guide to City Hall.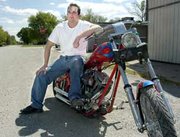 "Look at all this, man," Campbell said. "That's all I've been doing is reading tons of stuff. It's like going to college for free. It takes a lot more than everybody thinks, but I've got to do it. I've got all eyes on me now."
Campbell is the owner of Fro's Hideout, a bar in Linwood. He's also the man who voters pegged to lead Linwood, population 380, as town mayor for the next two years.
As unusual as a tavern owner running a city may sound to some, Campbell's rise to the top position in the city's municipal government is even more remarkable considering he's never before held office. It should also be mentioned he's only 29 years old.
Youngest in state?
He very well may be the youngest mayor in the state -- if there's someone younger, people in these parts sure haven't heard it.
"I certainly haven't run across anyone younger than that," said Mark Tomb of the League of Kansas Municipalities. "To be elected mayor you have to be knowledgeable and a leader. It's rare to see that a 29-year-old is that respected.
"I don't know what the median age is for mayors in this state. It's not in the 20s or 30s. It's more likely to be in the 40s or the 50s."
On this day, Campbell is prepping for the following night when he's set to preside over his first meeting. He's been working hard to learn the ins and outs of government and contends his term won't be a case of an eager kid sitting at the grown-ups table. He knows there will be doubters, but he's prepared to quiet cynics and critics alike.
"They said I couldn't build this business out of nothing but I did," he said. "I lead by example. I could sit here and tell you what I'm going to do, but doing is better than saying. I do. Let everyone else talk about it."
Giving back
Running as a write-in candidate under the campaign slogan "Vision, Integrity and Progress" Campbell defeated incumbent City Council member Georgianna Smith, 34 to 32, to win the mayor's seat.
Campbell said he wasn't trying to make headlines by running for mayor. He simply saw an opportunity to help a community that has been good to him.
Campbell has owned the bar in Linwood for the last three years. Maybe it's not a place where everybody knows your name, but it's the one place in the city "where everybody can get together and visit," he said. His parents own a sale barn just up the highway and Campbell has been acquainted with the city all his life.
When he had thoughts of opening a business, Linwood seemed like a logical destination. When he heard news that incumbent mayor Keith Schelert wasn't running for re-election, the decision to throw his hat in the political ring came just as easily.
Never mind the 20 to 30 hours of work a week the position will require, forget about the $10 elected officials are paid per meeting and to heck with foolish notions of satisfying some power trip, choosing to serve wasn't about any of those things, Campbell said.
"You've got to give back," he said. "I've helped myself and now I want to help everybody else. There wasn't much to it. I just saw the opening and went with it."
Shortly after the April 5 election, a Linwood resident questioned whether Campbell's residency status -- he has lived in the city for less than a year -- qualified him to be mayor. Leavenworth County election officials reviewed state statutes and found no provisions that would disqualify him for the position.
He hadn't even been sworn into office, and Campbell already had one political enemy. But, even though he's a political novice, Campbell handled the Election Day controversy with the finesse of a K Street powerbroker. When questioned about the uncertainty regarding the April 5 ballot, Campbell consulted with a friend who'd been serving as his "campaign manager" and then sent out a press release.
His responses were short and diplomatic. He thanked voters who believed in him. He championed the strength of democracy and said the will of voters should decide elections, not complaints from anonymous opponents. He said he looked forward to serving.
"One or two people may have something against me," Campbell said. "That's OK. No matter what, I'm not going to make everybody happy. I know that. It comes with the job. You've just got to make the right decision for everybody. You've got to do what you feel is the right decision."
A short walk to city hall
Since then, Campbell has been busy familiarizing himself with government. There's the bundle of well-worn papers behind the bar to review, and next week the new mayor will take part in a tutorial class sponsored by the Mid America Regional Council for newly elected public officials.
Plus, if he has any questions, Linwood City Hall is just down the road. It takes less time to get from the bar to City Hall than it does to serve a customer a $1.50 longneck. On this day, Campbell needs some information and heads out the front door at Fro's and walks down the street to the municipal office.
On the way there, the mayor talks about his vision for the city.
"I think there's a lot of potential here," he said, his words the only sound audible other than a few dogs barking in the distance. "It's gotta grow. It can't get smaller.
"I want to bring more businesses into town. We're right here on the highway. It's a great location. I think it's prime for development here. It's the best deal for the money, people, property and location in Leavenworth County. Before long, it's going to grow.
"When that happens I'll be ready and so will the city."
This modest blink-and-you'll-miss-it city in southern Leavenworth County has shown signs of rejuvenation in recent months. There's a couple of new businesses coming, some others considering the city as a locale, and a handful of homes are being built. For many municipalities, that's not much, but for Linwood, it's a good start, Campbell said.
"There's more building going on now than the last 20 years. That's a lot for Linwood. We're not going to let that die down.
"Government is a slow process. You've got to take your time and do it right. There's places that I think are growing too fast. I think everybody here has the same idea -- we want to grow, but we want to grow safely and within our means."
Study time
After his visit to City Hall, Campbell heads back towards the bar. He's got work to do before customers come in tonight. In between, he'll probably brush up on some reading from his packet, prep work for Tuesday night's meeting.
He's also got to make some telephone calls. Some local teenagers asked the new mayor to try to get MTV, which city residents can only view if they have a satellite dish, provided on the city's basic cable package. Campbell can understand the teens' request -- he's only 29 after all -- and not long ago he probably would have asked for the same thing.
Back at the bar, a construction crew outside is working on a 75-foot by 100-foot concrete slab for a patio to be used by bar patrons during nice weather and community members during the city's annual summer festival. When Campbell is asked about the project, he looks outside and says, "progress is promise, baby."
It may be a small improvement, but it's an investment in the community nonetheless. He hopes to be at the forefront of many more enhancements for the city, but won't make any guarantees. Politicians get in trouble for not keeping their word and Campbell only offers his when it comes to one thing.
"My whole goal is to finish the term and do the job right," he said. "I don't know what will happen. I'm going to do the best job I can and we'll see what happens. I'm not setting any limits."