Softball pops Piper for historic series sweep
Lions show poise, charisma, unity in hard-fought victories
Kansas City, Kan. — At times Friday, the Lansing High softball team seemed almost too calm and relaxed during its doubleheader against archrival Piper.
The Lions were battling through their most important twinbill of the season and faced oodles of adversity throughout both games, but they remained at ease at all times.
Turns out that may be exactly what they've needed all along.
Unlike in previous games where they've allowed an error or questionable call by an official rattle them into having an off-key game, the Lions didn't let anything - anything - throw them off their game. They maintained an extra-chatty dugout, picked each other up after every play, gritted their teeth and spoiled the Pirates' Senior Day with victories of 8-6 and 6-5.
The series sweep was historic for Lansing because prior to Friday the Lions never had taken both games of a doubleheader from the Pirates. The landmark accomplishment had LHS coach Terry Cornett praising his players' effort and determination.
"I've been involved with the softball program for at least nine years and we've never come close (to sweeping Piper)," Cornett said. "I didn't know it was their Senior Night, but the girls did, and for them to come back and win both of them:"
The Lions showed plenty of enthusiasm from the moment the first pitch of game one was thrown, and that was a good thing. They fed off the positive energy as freshman Amanda Darrow opened the first game with a lead-off single. She advanced to second on a sacrifice bunt by senior Maggie Aus, advanced to third on a passed ball and then scored on senior Jessica Kane's single up the middle. A low strike zone gave the Lions fits early on, however, and Darrow's run was the lone LHS run in the first three innings.
Kane started on the mound for Lansing and she effectively painted the corners of the strike zone early on, but the Pirates eventually heated up in the bottom of the third. They plated three runs off two hits, a walk and an error.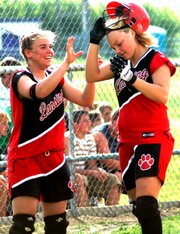 Trailing 3-1 heading into the top of the fourth, it would have been easy for the Lions to hang their heads in frustration as they'd done following previous rough innings, but that didn't happen Friday. Instead, the Lions took their lick and then swung back with a vengeance. Nichole Twitchel earned a lead-off walk. Then Dana Sanders, Emma Hoagland and Jessica Stark smacked three straight singles. Darrow then blasted a two-run triple to deep left field. She later scored on a passed ball. In all, LHS scored five runs in the top of the fourth and surged to a 6-3 lead.
Piper responded with two runs in the bottom of the fourth. The damage could have been worse, but Aus made a diving snag a third base and fired the ball to Twitchel who nailed the Pirates' Denise Daniels at the plate. A line drive to Morgan Chiles in right field ended the threat with two runners left on base.
Lansing pushed its lead to 7-5 when Hoagland singled and pinch runner Sara Logan later scored on a passed ball. Piper answered with three hits and one run in the bottom of the sixth. The Pirates again had a chance to take the lead after two blown calls by the field umpire - one at first and the other at third - gave PHS some momentum, but the Lions didn't get rattled. Instead, they called timeout and the players huddled at the mound to gain their composure. Then, when Kayla Nead ripped a run-scoring base hit, Stark scooped up the ball and fired a bullet from deep left field to Twitchel that nailed Maria Carr at the plate and ended the inning.
Twitchel opened the seventh inning with a double to right-center field. She advanced to third on an error and scored on Chiles' base hit.
Lansing led 8-6, but the drama wasn't yet over. Piper put runners at the corners with two outs in the bottom of the seventh. Daniels stepped to the plate and laced a high line drive toward the gap at second base but Darrow made a leaping snow-cone catch to end the game.
Photo Gallery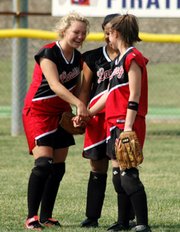 LHS softball sweeps Piper
The Lansing High softball team spoiled Piper's Senior Day as the Lions swept the Pirates for the first time in school history.
The Lions didn't let up in game two. Aus and Twitchel both scored in the first inning on a triple by Chiles. The score held into the third inning behind a stellar pitcher's duel between Sanders and Piper freshman Caitlyn McCall.
The Pirates heated up in the bottom of the third as they rattled off five hits to go along with a walk and an error. All but one of the hits came with two outs. In the process, PHS erupted to a 5-2 lead. That would be the only runs the Pirates would score all game because Sanders reasserted control and forced numerous pop flies and ground outs.
"She seems to stay with it and get stronger as the game goes on," Cornett said of Sanders' solid performance.
Lansing may have taken an early lead with its two first-inning runs, but it went scoreless the next five innings and trailed by three heading into the final inning.
With their backs to the wall again, the Lions mounted a late charge. Darrow smacked a single. Aus walked. Darrow scored on a wild pitch and trimmed the deficit to 5-3. Kane grounded out but allowed Aus to score on the play and pull LHS within 5-4 with one out. Twitchel walked. Chiles singled, Sanders walked and Hoagland singled. Twitchel and Chiles both scored and put the Lions on top 6-5.
Again, LHS was in command but not in the clear. Piper's first batter flied out to center, but the next batter walked. The third hitter lined out to Chiles at shortstop. A single put the potential game-winning run on base. Then Aus was credited with an error at third when she scooped up a ground ball but missed the base at third for a force out. Still, nobody panicked. The Lions kept their cool and Sanders got the final batter to hit a pop up behind the plate that Twitchel caught.
Game over.
Lansing 6, Piper 5.
The series sweep was significant for a variety of reasons. First was the fact that in meant two more victories. More important, though, was that it validated the belief that the Lions were beginning to click and find their rhythm as regional play nears. They have won five of their last six games.
"I think everyone is really looking forward to (making another playoff run)," Aus said. "I think we're trying not to push too hard for it, but we're really trying to get there."
If LHS was going to make a serious run at a second straight trip to the state tournament, it had to make a statement Friday. That's exactly what happened. Not only did the Lions play good softball. They also played with more enthusiasm and showed more poise than they'd displayed all season. There were a few reasons for that. One was the rivalry factor, but another key factor was that they didn't let miscues or questionable calls get to them this time.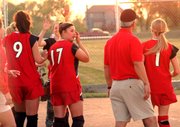 "I think we've had problems with (getting flustered in tough situations)," Kane said, explaining how LHS maintained its composure with both games on the line. "I think we do a lot better when we don't take things so hard on ourselves."
The return of senior Carolyn McKune to the field also made a big difference. McKune was the Lions' everyday starter at second base last year but she'd missed the entire season because of a hand injury. She made her first appearance of the season when she started game two at her usual spot in the field. Her glove immediately was a valuable asset, but her teammates and coaches said her very presence did plenty for the squad's morale.
"She's kind of the gal that she's kind of a rah-rah person, and she's solid," Cornett said of the impact McKune had on the team.
Another thing Cornett said made a major difference Friday was that the lower part of the batting order produced a steady flow of hits in both games. In fact, he noted, seven-hole batter Hoagland smashed two critical hits that led to runs in game one, as did eight-hole hitter Stark. Nicole Holland had two hits from the nine-hole in game two.
"I'm just pleased that the bottom of the batting order is really coming through," Cornett said. "They're making contact, and that's what it takes."
The Lions close out the regular season with a pair of doubleheaders at Lansing City Park. At 4:30 p.m. Wednesday they'll face Perry-Lecompton. Then, at 4:30 p.m. Thursday they'll play Silver Lake. After that it'll be on to Class 5A regional play.
For a photo gallery from the Piper twinbill, as well as photos from other softball games, check out the photogalleries page at lansingcurrent.com.