City donates to veterans memorial
Lansing — The Lansing Memorial for Veterans is receiving a $1,000 boost from the city of Lansing.
Mike Howell, senior vice president of the Lansing Veterans of Foreign Wars and organizer behind the drive to build the veterans memorial, won approval Thursday night from Lansing City Council members for the donation.
Howell said the money would be used to pay for a sign that will be erected on the site of the memorial, on city-owned land just southwest of City Hall. The 5-by-10-foot sign will have a rendering of the memorial faded into the background and proclaim, "This is the site of the future Lansing Memorial for Veterans." It will be visible to traffic on Kansas Highway 7, Howell said.
The tiered, tapered memorial will be in the shape of the Pentagon, topped by flags of the United States, state of Kansas and city of Lansing. On its five corners will be flags from the U.S. Army, Air Force, Navy, Marine Corps and Coast Guard.
Walkways with bricks will lead to the monument. Howell is trying to sell 2,600 bricks, which would raise $104,000. Bricks, which can be inscribed with the name of a veteran or the contributor, cost $40 each or $100 for three.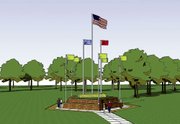 So far, Howell said, about 60 bricks have been sold, mostly after talks to civic clubs
He's hoping that erecting the sign and breaking ground on the memorial will generate even more interest, brick sales and donations.
"I've got $1,500 in the bank; I'm not ready to call in the bulldozers yet," Howell told the council. "I expect that to increase rapidly once we put the sign up."
Council President Ken Ketchum said the city should be an early backer of the memorial.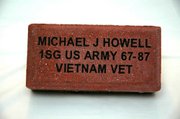 "If we're going to support it, we just as well invest now and start out right," he said.
The donation was approved on a 7 -0 vote with Council member Billy Blackwell abstaining. Blackwell is an officer in the VFW, one of the memorial's sponsors.
Howell told council members the date of the groundbreaking was being moved back a day to May 20. Several conflicting activities on May 21 caused the date shift, he said. No specific time has been set yet for the groundbreaking, though Howell thought it would be in the late afternoon.
The memorial is still being fast-tracked, Howell said, with a target date of Veterans Day, Nov. 11, for its dedication.