Baseball nabs No. 1 seed
State berth within grasp as Lions enter regional play
Flashback to 2004. The Lansing High baseball team had just lost its Class 4A regional championship game to Topeka Hayden.
Curtis Burgoon walked off the field frustrated at the missed opportunity to advance to state. The loss stung, especially considering the Lions were 19-4 and expected to go further in the postseason, but Burgoon knew he had one more shot.
Fast forward to today. Burgoon and his LHS teammates are heading out to practice preparing to play host to the Class 5A regional tournament on Tuesday. The Lions are the top seed, own a 15-5 record and appear to have a clear path to state.
"We're ready," said Burgoon, the Lions' senior first baseman. "The team last year, all of those guys pretty much doubted us through the summer and everything, but we're ready for it."
It's understandable that former LHS players may have been skeptical of this year's squad making a run at state. After all, only three everyday players - Burgoon and juniors Chris Wagner and Cody Mohan - returned from the 2004 squad so there were plenty of holes to fill. The fact most frequently overlooked, however, is that those spots were filled with seniors who have played together for six years. Plenty of talented juniors rounded out the lineup. That's why second-year LHS coach Terry Stueve had little doubt his team could be competitive again.
"I knew we were going to be pretty good," Stueve said. "Right off the bat we set high expectations for the guys and they worked hard in practice and achieved those goals."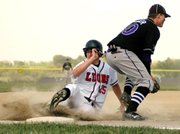 The Lions enter postseason play having won six of seven. They will have to win two in a row to advance to state against foes to be determined at a seeding meeting Saturday morning. That's also when game times will be set.
"I know we can play better," Burgoon said of the Lions' capabilities. "We haven't hit our peak yet, so hopefully it'll come Tuesday."