LHS

second at league
Regional tournament Monday will test Nelson
Lansing High senior golfer Chris Nelson hasn't quite matched his stellar campaign of a year ago - not yet anyway.
His scores have been a bit higher and his finishes a bit lower during tournaments, but Nelson looks like he's finding his stride at just the right time. In recent weeks he has knocked strokes off his scores, and he did it again Monday at the Kaw Valley League meet at Painted Hills Golf Course in Kansas City, Kan.
Nelson, a state medalist a year ago, fired a season-low round of 76 and placed fourth. His showing paced the Lions to a second-place finish. Junior Andrew Cameron was eighth overall with a 79.
Max Kozak shot an 85, Javen Kelly and Stefan Froelich each fired an 87 and Maria Jackson had an 89.
LHS coach Bill Pekarek said he was proud of Nelson for persevering late in the season and said Nelson did a good job getting the team focused for the league meet.
"I think he's known that so far this season he hasn't played all that well and he wants to make a mark on the season," Pekarek said. "He's done a great job of being the senior leader that we needed, and he knew that if he shot well he could win this tournament."
Pekarek said he hoped Nelson still had his best scores ahead of him. The Lions next compete Monday at the Class 5A regional meet at Lake Shawnee Golf Course in Topeka.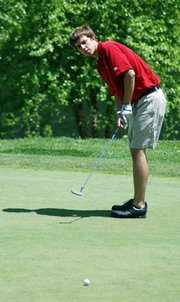 Nelson placed 20th at state last year in 4A, and Pekarek said he'd like nothing more than for Nelson to close out his LHS career with another medal-winning performance.
"He's trying to start meeting some of his goals, and I'm sure that as a returning medalist in 4A he's wanting to do the same thing or better in 5A," Pekarek said.
Nelson may be Lansing's best hope for earning a bid to state, but Pekarek said he liked his squad's chances of qualifying a full squad if it continues to show progress.
The top three teams at regionals qualify for state, as do the top five individual finishers who are not on a qualifying team. Seven teams compose the regional field with Shawnee Heights, Topeka West, Topeka Seaman, Highland Park, Washington and Mill Valley joining the Lions.
"Going into this regional you'll have to shoot under 320 (as a team) to do anything," Pekarek said. "And to go individually you'll have to shoot in the 70s."
The Lions' best team score is a 327, which they obtained Monday. Three Lions - Nelson and Cameron on Monday and Kozak last week - have fired rounds in the 70s this season.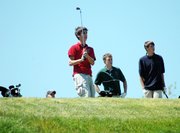 Although the Lions would need to knock off a few more strokes to dip their team score below 320, Pekarek said that could be done easily. It simply boils down to chipping and putting better.
"You've got to eliminate some of those putting errors," he said, citing numerous three-putts at the KVL meet. "It's little things like that."