Soccer prepared for regional slate
Last year the Lansing High girls' soccer team won its first postseason game ever when the Lions knocked off Piper, 4-0, in the first round of the regional playoffs.
Exactly how much does that experience factor into Lansing's chances this year? Very little, according to coach Rob Elkins.
"It was Piper, and it was an easy Piper," Elkins said. "We knew we were going to win the game before it even started."
Lansing was bumped by Bishop Miege, 6-0, in the next round and ended its season with a 12-5 record.
The Lions aren't likely to meet a similar fate this season. At 13-3, they own a glitzier record, but more important is the fact that they've played a tougher schedule. Games against Class 6A opponent Olathe Northwest (3-0 loss) and Class 5-1A defending state champion Shawnee Heights (7-2 loss) showed the Lions exactly what level of soccer they will have to play to make a deeper run in the playoffs.
"We have a taste of what it's going to be like, and by seeing how they played and how they passed we can anticipate that stuff a lot more now," said senior midfielder Monique Richardson.
Another thing the Lions finally have a taste of is playing in hot weather. A relatively chilly spring season hadn't allowed them to experience an 80-minute game under sunny skies and high humidity until playing De Soto on Monday. LHS won the game 4-0 on goals by Richardson, Jessica Hauver, Kayla Pina and Kendra Sickinger.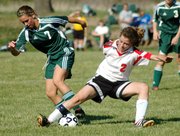 Elkins substituted deep into his bench against De Soto and utilized Lansing's fresh legs, but he said the weather will only make things tougher in the playoffs. That was the case against Miege last year when the Lions wore out early.
"(The heat) can suck it right out of you. That was a rude awakening last year," Elkins said. "But we now have the opportunity to start training in the heat."
Elkins said the Lions would spend the next several days in practice focusing on their conditioning and then spend Monday's practice focusing on their opponent. A seeding meeting will take place at 10:30 a.m. Saturday.
"The realistic expectation is for us to win regionals and move into the quarters," Elkins said. "A lot of it has to do with the draw. We could draw some really difficult teams and it can go either way in those types of games."
No matter who the Lions are pitted against, the players said they are pumped up and ready to make a playoff push.
"I think we'll do good at regionals," freshman forward Rachel Pride said. "Hopefully we'll go to state, but if we don't then we'll be fine with that too, as long as we play our best."