Lions on hot streak heading into postseason
This time last year the Lansing High softball team was about to make its first ever march to the state tournament.
The 2005 Lions haven't quite matched the 19-7 record of a year ago - this year's squad is 9-7 - but right on cue they're starting to take the form of a team ready to make another run at state.
The Lions won five of their last six games heading into Wednesday's twinbill with Perry-Lecompton. The Lions play host to Silver Lake at 4:30 p.m. today at Lansing City Park. Class 5A regional play begins Monday with the Lions again playing their best ball of the year.
"Now that we're almost to regionals we're starting to move forward and play like we should be playing," senior pitcher Jessica Kane said. "It's nice to have that momentum going into postseason."
The Lions picked the right time to start putting everything together. For a while it looked like their chances at a return trip to state would be slim, but during the past two weeks they've transformed into a championship-caliber team again.
"The difference is we all just came together," senior second baseman Carolyn McKune said. "Our bats started hitting. Our fielding started getting better. Everyone was talking more on the field than they usually do, and that kind of brought everyone up and helped us play a lot better."
Almost everyone is healthy. That in itself was a major difference. McKune returned to the lineup after missing the first 15 games with a finger injury.
The Lions' positive attitude was another key factor.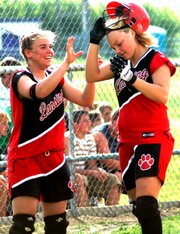 "On our team everyone always is there to pick each other up," senior third baseman Maggie Aus said. "Nobody ever feels down because everyone is there for each other."
LHS coach Terry Cornett said he's pleased that everybody was contributing. Whether it's a clutch hit by Amanda Darrow, Morgan Chiles or Emma Hoagland, a lead-saving defensive play by Jessica Stark or somebody uttering a positive word in the dugout, Cornett said everything was making a difference.
"That's what you like to see," he said. "You put them in there and they do something positive. It doesn't have to be a hit. It can be just being where they should be and doing something that doesn't always show up in the box score."
A seeding meeting will take place Saturday to determine regional pairings.