Illness doesn't stop Nalker
Senior wins two medals in hurdles at league meet
Shawnee — Ethan Nalker had good reason to be concerned about how his races would go at the Kaw Valley League meet Wednesday night at Mill Valley.
After all, Nalker, Lansing High's senior hurdler, spent the last two weeks ill with a stomach flu and still was feeling a bit weak. He hadn't raced during the time he was sick so he didn't even know if he'd be able to find a rhythm going over the hurdles.
No problem.
Nalker blazed to a second-place finish in the 300-meter hurdles and a third-place finish in the 110-meter hurdles.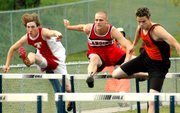 His time of 44.02 in the 300s was a personal record. So was his 16.93-second time in the 110s.
"That's after two weeks of no practice," Nalker said with a grin on his face. "It makes me feel pretty good about regionals coming up. Hopefully I've got a chance for state this year. It'd be nice being a senior and making it to state this year."
If state is going to become a reality, Nalker said he would have to run another pair of personal-best times at the Class 5A regional meet, which will be at 3:30 p.m. May 20 at Hummer Sports Park in Topeka. Among is race foes will be Highland Park's Jared Huske, owner of the fastest 110-meter hurdles time in the nation this year.
"I saw some of those guys, and I'm thinking there's going to be some tough running," Nalker said.
Nalker likely will be seeded fifth or sixth in each event in a regional that may be the toughest in the state for both events.
"I'd be happy even if I don't beat them out. As long as I get a PR I'll be happy," Nalker said. "All I ever do is run my own race and I'm satisfied with getting better."