Spaghetti serves up funds for society
Lansing — The Lansing Historical Society last week rekindled one of its favorite recipes for raising money.
The group's spaghetti dinner raised more than $750 and sated the appetites of dozens of its supporters.
"We did very well," said Linda Lockwood, president of the society. "We had more people than we did last year, and we raised between $750 and $800."
Lockwood said the society served 160 to 170 people at the dinner Thursday at the Lansing Community Center. Last year, 152 people were served at the dinner.
Eva Wayman said food had long played a role in the Lansing Historical Society's fund-raising efforts.
"We've had fish dinners where the Jackson family caught, cleaned and fried the fish. We've had chili dinners, spaghetti dinners," she said. "We've had pie socials and basket dinners, too."
None of the volunteers making last-minute preparations Thursday afternoon could pinpoint when the Historical Society began regularly using spaghetti dinners as a fund-raising event.
"We've done this for a long time," Lockwood said. "It's been a good, steady fund-raiser for us."
Kitchen volunteers busied themselves making salad and cooking extra spaghetti in the hours before the dinner. Most of the spaghetti had been prepared ahead of time and stored in bags by Debra Bates-Lamborn, who also made the sauce in advance of the dinner.
Photo Gallery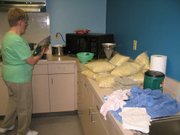 Lansing Historical Society Spaghetti Dinner
Lansing Historical Society held its annual spaghetti dinner fund-raiser Thursday at Lansing Community Center. The society raised more than $750.
Preparing the food is no small task. Consider this grocery list: 11 bags of cooked spaghetti with a corresponding amount of sauce; 24 loaves of bread; 20 heads of lettuce; 10 pounds of sliced carrots; about the same amount of diced tomatoes; gallons of salad dressing; and tables full of individual dessert servings.
As she and the rest of the volunteers continued their preparations for the spaghetti dinner, Lockwood couldn't resist giving a plug for the Historical Society's next fund-raising event.
"We'll be feeding people well today so they have plenty of energy to run in our Lansing DAZE 5K," she said.
The "On the Run" 5K, at 7:30 a.m. June 12, is the group's biggest fund-raiser of the year, Lockwood said.