Council discusses traffic issues, elects president
Photo Gallery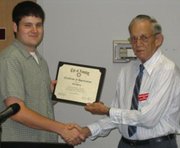 City Council honors
The Lansing City Council paid tribute to three residents at its meeting Thursday, May 5.
A brief agenda didn't keep Lansing City Council members from taking on several issues at last week's meeting, including speed limits, traffic and electing a new council president for the coming year.
The council:
¢ Watched as Mayor Kenneth Bernard presented a certificate of appreciation to Jeff Hoins, a Lansing High School student who assists with the Lansing Government TV channel, recognized Lansing DAZE logo contest winner Harold Laurence, and presented a certificate of appreciation to John Whittamore Jr., a Boy Scout who shepherded a trail-clearing effort.
¢ Heard Bernard proclaim Municipal Clerk's Week, May 1-7; See America Week/National Tourism Week, May 7-15; Building Safety Week, May 8-14; Lansing Police Week, May 15-21; and National Public Works Week, May 15-21.
¢ Elected on a 5-2 vote Council member Kenneth Ketchum as council president for the coming year. Council members Billy Blackwell and Harland Russell voted against Ketchum, who abstained.
¢ Agreed to the reappointments of John Calhoun, Mike Suozzo and Janette Labbee-Holdeman to the Planning Commission.
¢ Agreed to conduct a study session in the near future on signage issues for new businesses. Ketchum has rallied against a $15 fee the city charges for signs announcing new businesses coming to town.
¢ Directed Police Chief Steve Wayman to study speed limit and speed limit signage issues around school zones.
¢ Agreed that Bernard should send a letter to Leavenworth's mayor about deciding in a timely fashion whether to install a turn lane on De Soto Road at Eisenhower Road. The intersection is currently under construction for another project.
¢ Discussed Russell's suggestion to appoint a citizens group to study "traffic calming" measures. Mayor Kenneth Bernard instead directed city staffers to first look into the issue.