Friendly face at City Hall
If you've been around Lansing the past 10 years or so, chances are you've run into Lorraine Gluch.
Gluch, is an assistant with the city's Economic Development/Convention and Visitors Bureau. As such, she was one of two people charged with surveying every business in Lansing last year for the city.
If you didn't see her there, you may have seen her manning a television camera at one of the many ribbon-cuttings that have taken place in the city the past couple of years.
She's also behind the camera at Lansing City Council meetings, taping them for broadcast on LGTV.
If not there, for seven of her first 10 years of working for the city, she was the utility billing clerk, collecting and posting payments from her desk at City Hall.
Her current assignment, Gluch said, is her favorite.
"It's different every day," she said, explaining that she currently is deeply involved in the planning and preparation of the 2005 Lansing DAZE festival. "It's all positive."
Name: Lorraine Gluch
Address: Leavenworth County
Family: Husband Frank, son, Jason, 27
How long have you worked in Lansing and what brought you here? I have worked for the city for 10 1/2 years; my husband's work brought me to the area.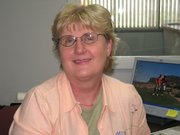 What do you like most about Lansing? The progressive leadership of city government and staff as demonstrated by the recent economic growth in the city.
What do you do to relax? I enjoy reading, traveling and attending plays as time permits. I also enjoy antique shopping.
What would surprise people about you? I was born and raised in New England.
What's the best advice you ever received? Invest in the future.
What organizations or clubs do you belong to? I am a recent graduate of Leavenworth/Lansing Leader-ship Class (2005). I am on the Pilgrim U.C.C. church board.