Seniors await their day
Class of 2005 to graduate Saturday
Lansing — Some seniors are crossing their fingers and hoping the weather stays sunny and dry Saturday so that Lansing High School can hold its commencement ceremony outside for the first time in four years.
"It hasn't been held outside in so long," LHS senior Jill Robinson said.
Commencement is scheduled to begin at 10 a.m. Saturday, May 21, at Frank Graham football field at the high school. In the event the weather does take a turn for the worse, the ceremony will be in the LHS gym.
LHS senior Katie Mance said graduation hadn't been held outside since her older brother graduated in 2001. When the ceremony is in the gym, Mance said, not everyone can attend due to limited space. Other seniors polled Wednesday morning agreed that they would prefer to have the ceremony outside because the gym would be crowded.
Kristie Wessel, an LHS counselor, said that in the two previous years she has worked at the high school, rainy days leading up to graduation have left the field too wet for the ceremony to be conducted outside.
Photo Gallery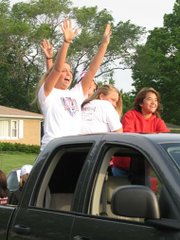 Seniors wind down
Lansing High School seniors are winding down their time as their high school days come to a close and graduation day nears.
At the ceremony, the seniors will be sent off with speeches from senior members of the leadership council and from the valedictorian and salutatorian, who will be named at the awards ceremony at 7 p.m. today, May 19, in the LHS gym.
LHS officials are advising seniors to arrive for commencement at 9 a.m. at the field dressed in cap and gown. Girls will wear red caps and gowns, and boys will wear black. The tassels should be on the right side of the mortarboard and stay there until students receive a signal to move it to the left.
Students have the choice to wear either the standard red and black tassel or a gold tassel awarded for having a cumulative grade point average of 3.0 or above if they receive one at the awards ceremony. They should also wear all cords they receive, which Wessel said could be from leadership, science club, Kays or Kayettes or any other of the many clubs that reward students with a cord. Students who receive National Honor Society collars should wear the collar over their cords.The seniors won't actually receive their diplomas on stage, Wessel said. Four teachers - Ginny Scott, Melanie King, Kathy Bach and Arnie Arts - who were selected by the students will distribute diploma covers at the ceremony. Diplomas and report cards can be picked up after the ceremony in Room 139, Wessel said.
After commencement, the only scheduled activity with their classmates that seniors have left is Operation Graduation, an overnight lock-in where seniors will have the opportunity to play casino games, bunco, miniature golf and laser tag. They will also be allowed to swim, and there is a team game that will take place in the pool. There will be a DJ, food and drinks, and all seniors will receive a gift and be eligible to win prizes. The theme is Mexican Fiesta.
Operation Graduation will begin at 10 p.m. Saturday at Harney Gym at Fort Leavenworth. The event will last until 5 a.m. Sunday, but no one will be allowed to enter or leave after midnight.
Students and guests should bring photo IDs to be admitted onto the fort and into Operation Graduation.