Longtime 4-H'er ready to ride to
KSU
Lansing — Laura Abramovitz has been riding horses for as long as she can remember and taking care of them as long as she's been able to carry a bucket, she says. So it seems only natural that she has competed in horse events through local 4-H clubs for seven years.
Abramovitz joined the Boling 4-H group when she was 7 years old, the youngest age allowed to join. When she turned 10, she was eligible to compete at county and state fairs, and she started competing in horse events.
Abramovitz competes in several horse events, including showmanship, a reining event, and the riding events of horsemanship, barrels, poles, flags and pleasure, all Western style. She said that she had won a ribbon in at least one event every year she had been allowed to compete at state. Ribbons are awarded for first through 10th places.
Now a Lansing High School senior and a member of both the Boling 4-H group and Leavenworth County 4-H Horse group, Abramovitz praised the clubs.
"(4-H) has definitely had a big impact on my life," she said. "It's been great."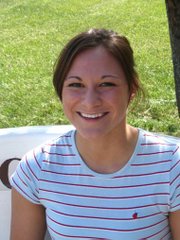 The club teaches its members to step up and be a leader, Abramovitz said, and that though people are different, a common interest can bring them together. She has met people whom she wouldn't have without 4-H, and some of them she sees only once a year at the county and state festivals, she said, but she still considers them friends.
Abramovitz said she would recommend 4-H to any children she knows. Her father and older sister have been in 4-H, and Abramovitz said she would definitely put her children in the program.
"It's a very positive way to keep out of trouble," she said.
As a senior, Abramovitz is one of the oldest members of her groups. However, she said she enjoyed helping the younger members, especially as a future elementary education major at Kansas State University.
"It's so rewarding to have little kids look up to you in a very positive way," she said.
Beth Hecht, 4-H agent for the Leavenworth County Extension Office, said it was not uncommon for high school students to stay involved in 4-H clubs, though she said some dropped out because they had more activities available as they got older.
In addition to the 10 years of memories from 4-H, Abramovitz will take something else with her to college from the clubs: two scholarships. She was awarded a Leavenworth County 4-H Foundation Scholarship and a Boling 4-H Senior Scholarship.