D.A.R.

E. Rewards
Concert at Verizon amphitheater a treat for students in program
The weather couldn't ruin the rewards for about 140 Lansing schoolchildren and another 4,800 students from around the who attended this year's Metro D.A.R.E. Fest.
The annual festival was Thursday at Verizon Wireless Amphitheater. And while rain and cool temperatures might have dampened the students' spirits, it didn't have dampen the students' commitments to resisting drugs and violence - the core message of D.A.R.E., Drug Abuse Resistance Education, a program used by schools across the country.
In Lansing, fifth-grade students participate in the D.A.R.E. program and all 136 of them attended the festival, said Officer Billy Blackwell II, the Lansing Police Department's D.A.R.E. officer.
"The last 10 weeks, they've been going through the program," Blackwell explained. "As a reward for going through the program, they didn't have to go to school and we had nice, fun day."
This year's celebration marked the seventh occurrence of what organizers say is the largest and longest running D.A.R.E. festival in the county. Once again, Retro Bill, a national television and radio personality and the official D.A.R.E. safety buddy, served as the event's emcee. Sizzle, the Kansas City T-Bones mascot, Ad-Lib-N, a band composed of a Kansas City, Kan., police officer and Edwardsville Elementary School music teacher Libby Whittle, and Tonganoxie High School student Joey Glenn, a country music artist, also entertained the students.
Photo Gallery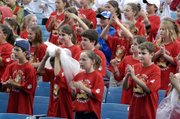 D.A.R.E. festival
Lansing fifth-graders and other students from the metro area that recently completed their D.A.R.E. program were treated to a day of music and fun at Verizon Wireless Amphitheater in Bonner Springs for the annual D.A.R.E. Music Fest.
The annual event requires months of planning and is funded exclusively through donations, said Pat Budy, a Bonner Springs Police Department D.A.R.E. officer and the festival's chairperson said.
Though D.A.R.E.'s message centers largely on resisting drugs, violence and negative peer pressure, the overall effect has numerous additional benefits, Budy said.
"Saying no to drugs and alcohol is what everyone pictures," Budy said. "But one of the big things with D.A.R.E. is the self-esteem issue. That is something we talk to them at graduation about. When they walk into middle school next year, they should walk in with their head held high."
The Lansing Intermediate School D.A.R.E. students will mark their official graduation from the program at 1 p.m. Wednesday, May 25.
Staff member John Taylor contributed to this report