Muddy water hampers anglers
7-year-old reels in largest catch, a 16-inch catfish, at fishing derby
Lansing — Saturday's weather for the OK Kid's Day Fishing Derby at Lost 80 Park was perfect: sunny and mild. Unfortunately, the weather from the previous three days had roiled the lake's water, making it difficult for fish to see young anglers' worms.
That didn't stop the 130 children who competed and the adults who accompanied them from enjoying the event.
"We've had no luck, but it's a nice day," Debbie James said. James came with her 4-year-old daughter Jessica.
The lack of bites didn't seem to bother most of the other contestants, but Athena Clayton, 14, lost patience waiting for a bite.
"I have the patience of a 2-year-old," Clayton joked as she left her chair and pole to stretch.
Clayton's father, Marcus Clayton, said he figured the fishing was poor because "It's too muddy from the rain."
Other parents agreed with Clayton's diagnosis.
"Last year we caught a lot more," Gary Stark said. Stark came with his 8-year-old grandson, Max Hernandez, who caught a perch an hour into the contest.
The derby featured three prizes in each of the five age groups: 0-3 years, 4-6, 7-9, 10-12 and 13-15.
The awards were distributed for First Fish Caught, Most Fish Caught and Largest Fish Caught.
Photo Gallery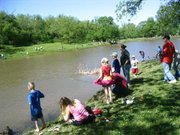 OK Kids Day Fishing Derby
About 130 children turned out to try their luck at the OK Kids Day Fishing Derby on Saturday, May 14, at Lost 80 Park. The derby was sponsored by Lansing Parks and Recreation.
Garrett Waterman, 13, a seventh-grader at Pleasant Ridge Middle School in Easton, won the award for Largest Fish Caught for his age group. Waterman said his one-ounce bass only won "because it was six inches."
Waterman won a folding camping chair, a tackle box and a certificate for a Frosty from Wendy's.
The biggest fish overall was caught by 7-year-old Jonathan Zappa. Zappa caught a catfish weighing 1 pound, 9 1/8 ounces and measuring 16 inches in length.
Zappa said it felt "awesome" to have caught the day's biggest fish.
"It was lagging my line all over the pond," he said.
Zappa said it took two or three minutes to reel in the catfish, which was the biggest fish he'd ever caught.
Zappa won a fishing pole, a fishing line, a tackle box bag and a scale.
Fishing Derby Winners
The following are the winners of each category, followed by their age group:
First Fish Caught:
Brandon Melton, 0-3 years
Jonathan Sanderson, 4-6
Alex Kroll, 7-9
Mason Holler, 10-12
Tyler Vetter, 13-15
Most Fish Caught:
Aaron Charity, 0-3
Tyler Yea, 4-6
John Lemons, 7-9
Jeremy Melton, 10-12
Travis Lytle, 13-15
Largest Fish Caught:
Seth Gray, 0-3
Dylan Kroll, 4-6
Jonathan Zappa, 7-9
Preston Jones, 10-12
Garrett Waterman, 13-15