Disability can't keep senior from activities
Lansing — Lansing High School senior Todd Orlowski may face many challenges as the result of being legally blind, but he hasn't let his disability stop him from doing what he wants to do - including fixing computers and being a weather spotter.
That's right - a weather spotter. Orlowski can't drive to get to the observation vantage points around the county, but he helps in ways that he can. Chuck Magaha, coordinator for emergency preparedness for Leavenworth County, said Orlowski often will get a ride to the emergency operations center when he's needed. Magaha said Orlowski helped to answer the phone, plot volunteer locations and communicate with volunteers in the field via radio.
"He's more than willing to help, regardless of the situation," Magaha said.
Orlowski said his experience as a weather spotter wasn't limited to the office, however. He said he often conferred with LHS activities director Gary Mattingly to help Mattingly plan when to call off or reschedule school sporting events. Orlowski said he once happened to be at a softball game with his emergency radio when a storm started brewing. He said he helped to make everyone aware of the situation.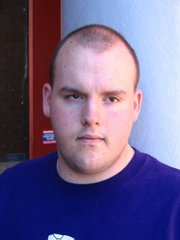 "Interaction with the public is the majority of it," he said of his weather-spotting duties. "They have to trust you no matter what they think at the moment."
Clearly Orlowski hasn't let his disability get the best of him. He has overcome challenges at school, too - he said board work and note-taking could both be problematic, but he has figured out how to deal with them.
"You learn ways to compensate for what you can't do or learn ways to do them," he said.
Orlowski plans to attend Kansas City Kansas Community College in the fall to major in computer information management. He said he liked to do anything on the computer, from repair to graphic design. He said he had learned some skills such as basic troubleshooting, installing software and adding and removing hardware in a Computer Systems Networking class he took last year at LHS.
What interests him most about computers, Orlowski said, is coming up with new technology. After two years at KCKCC, he said he would like to transfer to Kansas State University or Northwest Missouri State University in Maryville, Mo., to major in agriculture technology management.
The major, he said, is designed for people with computer backgrounds. He said it involved development of new machines, such as seed sprayers. Some of his interest stems from living in a rural area, he said, but what really appeals to him about the job is the constant flow of new challenges - "unlike a regular computer major where you have the same thing every day," he said.