Nelson, Cameron compete at state golf
Ironhorse proves to be tough as nails for
LHS

golfers
Photo Gallery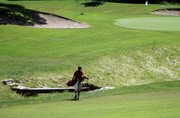 Nelson, Cameron compete at Class 5A state golf
Lansing High senior Chris Nelson and junior Andrew Cameron competed Monday at the Class 5A state golf tournament at Ironhorse Golf Club in Leawood. Here are scenes from the day.
Leawood — Chris Nelson badly wanted to be a two-time golf state medalist but couldn't quite make it happen.
Nelson, who placed 20th in 2004 at the Class 4A state tournament, was either at his very best or very worst Monday at the Class 5A state tournament at Ironhorse Golf Club in Lenexa. He never found a consistent happy medium, and as a result his 18-hole score of 86 left him just shy of another state medal.
"I'm definitely not happy with (my score)," Nelson said. "Last year I started off really bad too and I came back. A couple holes, I probably could have done better if I just would have focused more. You can't take anything back. It's my last tournament."
Putting and chipping never were problematic for Nelson. His woes came with the driver, he said. He made just 27 putts all day, but he lost about a half-dozen balls, which resulted in penalty strokes. When his drives were on he crushed the ball farther than anyone in his group, but when he was off target he struggled.
"It was off the tee that killed me," Nelson said.
Similar to his state round last year, Nelson got off to a rocky start. He opened the day playing the back nine and fired a quadruple-bogey nine on the par-five No. 10 hole. He lost two balls and landed one in the water on the hole. Nelson shook that off, however, as he made par on three of the next four holes. It was smooth sailing until No. 18 when he lost a ball in the woods along the way to a double-bogey for a 45 on his first nine holes.
Nelson was the top player in his group of four for most of the final nine holes. He double-bogeyed No. 1 but then went par, par, birdie, par. A double-bogey on No. 6 frustrated him, though, as he landed a ball in the lake. He then logged a triple-bogey on No. 7 after losing two balls out of bounds.
Although Nelson's final round of golf wasn't indicative of his prep career, his final two holes were. On No. 8 he landed his second shot on the 408-yard, par-four just five feet from the pin and putted for a birdie. Then on the 555-yard No. 9 he recorded a par.
"I finished somewhat strong," Nelson said, "so I can take the positive out of that."
Cameron's state experience also was frustrating in many ways, but just like Nelson, Cameron said he knew he played about 13 solid holes. It was the five that got away from him that took him out of medal contention as he finished with a 93.
Cameron went bogey, double-bogey, quadruple-bogey, double-bogey on his first four holes. After that he settled down and played steady as he knocked in six pars and a birdie the rest of the way. He had only one bad hole on the back nine - No. 15 - where he took a nine on the par-four. He followed that with a pair of pars, however.
"It's a tight course, and I had trouble keeping it in-bounds," Cameron said. "I lost quite a few balls today. Those are the holes that shot my score up. If I could have taken away, maybe got off with a bogey on a couple of those holes, I would've shot low 80s, high 70s."
Perhaps the highlight of the day for Cameron came on No. 18. He bogeyed the hole, but his iron from 140 yards out landed less than a foot from the pin. Cameron tapped in the easy putt and closed out his season on a high note.
Both golfers agreed that the difficulty of the course - Ironhorse is one of the toughest courses in Kansas - factored heavily into their high scores. Nelson and Cameron weren't the only ones who ran into trouble at Ironhorse, either. In fact, about half of the state tournament field shot 90 or higher.
"A lot of it is nerves just because it's the state tournament," Nelson said of the high scores, "but the course probably plays a good part of that too."
A supportive gallery
High school golf usually isn't treated like a spectator sport, but Monday was different for Nelson and Cameron. LHS seniors Chris Bristow, Joey Sebes, Jessica Hauver, Jeff Hoins and junior Javen Kelly wandered the course Monday to show their support for Nelson and Cameron.
For more news from the state tournament, pick up the May 26 edition of The Current and visit lansingcurrent.com.