Sun shines on seniors
LHS

grads savor past, look to future
Lansing High School senior Micah White told her classmates at Saturday's commencement she was certain they would make their mark on society in their post-high school days.
"Maybe Katie Lowe will discover the cure to cancer or the common cold," said White, the senior class president.
"Jake Taylor may end up as the CEO of the United Service Organization.
"Maybe Andrew Phillips will unify our politically divided country as president.
"Chris Nelson could be a professional golfer and help people through a foundation he starts.
"One of us may even become a saint," she joked.
As the 142 seniors in the LHS Class of 2005 gathered to receive their diplomas on a mild, sunny day at Frank Graham Field, the messages they heard from White, senior class leaders and other speakers focused on themes of a proud past and the promises of the future.
White listed several accomplishments through the years of the Class of 2005, including organizing this year's "Late Night for Leukemia" fund-raiser and reintroducing the playing of the school's alma mater at athletic events "which had been missing for quite some time."
She also paid tribute to past high school classes from years ending with 5, dating to 1935 and continuing through the decades to present, noting their accomplishments.
"I have no doubt that we will go out into the world and make a positive difference society," she said.
Shelly Gowdy, president of the Lansing School Board, reminded graduates of their achievements, including posting the highest average ACT score in the Kansas City metro area in 2004.
"You are high achievers and you have inspired your teachers, administrators and the Board of Education to continually improve your academic options," Gowdy said.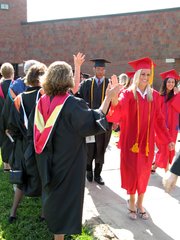 Lauren Mosley, class secretary, told the seniors "an amazing time in our life has come to an end." But she also counseled, "Do not be discouraged by the miles ahead of you, but be proud of the work you've done to put you a few steps closer to your destination."
Kelsey Fallesen, class treasurer, talked of the world of possibilities that await the graduates. She also reminded students about what leadership adviser Kevin Riemann said they meant to the school.
"Mr. Riemann once told me that without us students, this high school wouldn't exist. We are Lansing High School, and it is the we that I will miss most," Fallesen said.
Other student speakers offered their advice and laid down their challenges:
¢ "They can't hold us down - not 'Stacey's Mom' or 'Po' Folks' or 'Skater Boy' or 'Miss Independence,'" Brittany Bradley told the graduates in a speech peppered with song titles.
¢ "Achievement is meaningless without contribution," Ben Crary said. "And so Class of 2005, what will your contribution be?"
¢ "Don't lose sight of where your heart should be," Chris Nelson said, "Respect your friends. Love your family. But most of all, cherish your children."
¢ Katie Lowe, salutatorian, quoted Matthew Broderick in the 1980s film "Ferris Bueller's Day Off." "Live moves pretty fast. If you don't stop and look around, you might miss it. : My advice is to milk life for all its worth. Don't let it pass before your eyes."
Class valedictorian Gwyndolyn Jones took time to focus on one of her fellow graduates, Jon Terrill, who has recovered from severe injuries from an accident earlier this spring. Jones dedicated her speech to Terrill.
"Of all the people I've ever known," Jones said, "you were able to make me pray harder than anyone else ever could because of your life-threatening accident. I'm dedicating this speech to you because you are a miracle and your presence here today is a testimony that our prayers were answered."
With the end of the speeches and a performance by the high school choirs, the seniors were called across the stage, one by one, to receive their diplomas from four faculty members they selected: math teacher Arnold Arts and English teachers Kathy Bach, Melanie King and Ginny Scott.
Family and friends who filled the west side stands spilled onto the field to snap pictures as their loved ones received their diplomas.
The morning graduation, the school's first outside in four years, gave way to afternoon gatherings with families. Saturday night, the seniors celebrated at Operation Graduation, a party thrown by senior parents at Fort Leavenworth that included card games, Bingo, swimming, obstacle courses, giant Twister and other activities. The lock-in event concluded with a pancake breakfast.