Lions ready to reload
Jung, Warner gain valuable experience at state meet
Topeka — The Lansing High tennis team's goal for the season was to qualify both of its doubles teams for state.
The Lions did just that, but were unable to win a match once they made it to the Class 5A state tournament at Kossover Tennis Center.
Seniors Chris Bristow and Chris Hancock went 0-2, as did juniors Shawn Jung and Matt Warner.
First-year tennis coach Bryan Shelley said he was proud of his guys for making it to state, but he said he should have had the squad re-evaluate its goals before the state meet to improve its chances of winning a match.
"It changes our whole way of looking at goals. I think that was my fault as a coach this year," Shelley said. "I didn't recognize the talent. Our goal was to get our doubles teams to state when, really, our goal should have been higher than that. It should have been to get to the semifinals at state or get to the next round at state. We didn't really reassess those once we got to state."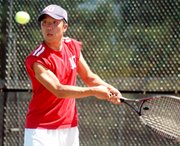 Goal-setting will be plenty different next year, Shelley said. After all, Jung and Warner will be returning state qualifiers.
"That's something to build on for next year," Shelley said. "They're going to be our go-to guys. They're going to be our team captains."
Both players said they relish that role, and they said they are capable of doing more now that they have a state tournament under their belts.
"Get to the second round and get a medal next time," Jung said of his new expectations.
Winning a state medal almost became a reality for the junior duo this year, however. Their first match was against regional champions Evan McFarland and Adam Squintieri of Blue Valley West. Warner said prior to the match he'd expected to be blown out, but midway through it was a dogfight. In fact, the Lansing pair held a 4-3 advantage in the first set before Warner broke a string on his racket. He and Jung ended up losing 6-4-6-2. They later lost to Jonathon Ellison and Kevin Kline of Bishop Carroll.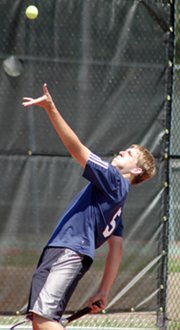 "My goal this season was to get to state," Warner said. "I would've been glad if we would've done more, but state was my goal so I'm satisfied.
Bristow and Hancock weren't as satisfied with their state experience. They opened the tournament against a pair from Blue Valley that they beat 6-3 earlier in the season. This time, however, Bristow and Hancock were out of sync early on and lost 6-0, 6-3.
"We didn't come to the level that we needed to play at the state level," Bristow said of the first match.
The difference between their first and second matches was night and day, but the result remained the same. Bristow and Hancock were paired against Jacob and Keith George of Salina South in a match that turned into a dogfight. The LHS seniors scrapped and fought for every point as they pulled within 6-5. The George brothers eventually pulled away for a 9-5 victory, though, after the final game went to deuce four times.
Shelley said the final match was one that Bristow and Hancock could be proud of, despite the result.
"I would've been pretty disappointed if it wasn't double-elimination and the way they ended it with that first match," Shelley said. "They proved what they're made of (against South). They never laid down. They never quit on anybody. They came back and fought. I'm happy with that."
¢¢¢
Sophomore Josh Robinson, Lansing's top returning singles player next year, made the trip to state despite not qualifying. Robinson was in Topeka to support his LHS teammates and to watch the state singles competition. He hopes to be a part of the state field next year.
"He means business about it," Shelley said of Robinson. "Now he has an idea of what it takes to get here and what he's going to have to do."