Father back from Iraq for
LEAP

graduation
When Tony Maiava left for Iraq seven months ago, he promised his sons Grant and Gavin that he would return in time to see them receive their high school diplomas.
Every time Tony, a sergeant with the 137th Traveling Company, had an opportunity, he called his family in Leavenworth and reminded them he would soon return.
Grant Maiava and Gavin Maiava, 18-year-old twins, were skeptical of whether their father could keep his promise. But with a great deal of planning and a little bit of luck, Tony Maiava was able to attend Saturday's Lansing Educational Achievement Program graduation ceremony.
"I wasn't sure if he was going to be here, but he did what he had to do," Gavin Maiava said.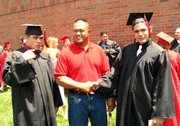 The Maiava twins were among 106 students receiving Lansing High School diplomas on Saturday through the Lansing Educational Achievement Program. The program offers alternative teaching methods for teenagers seeking their high school diplomas. Their ceremony was just hours after the LHS graduation at Frank Graham Field.
Tony Maiava said his wife, Linda, planned his trip home from Camp Taji in Iraq months in advance. But it wasn't until Tony Maiava's name was chosen in a military lottery that he learned he actually would get to visit his family.
Linda Maiava said Tony had just two weeks of leave time and originally was supposed to come home May 16 so he could go on a family vacation to Branson, Mo., after the graduation.
But because of the uncertainty of military plans, he instead arrived home May 6.
Luckily for Tony Maiava, he was able to change his vacation reservations and go to Branson before the graduation ceremony.
He said the vacation was just what he needed because even the trip home stressed him out.
"I took a helicopter to another base so I could take a plane to Kuwait," he said. "From there I flew to Germany, then I flew to Atlanta, and finally from there I flew to Kansas City."
He said the trip took more than 24 hours to complete.
The Maiava family returned Friday from Branson, Mo., and on Saturday, Tony Maiava, along with about 20 other relatives, watched Gavin and Grant graduate.
Tony Maiava said he was proud of both of his sons because he was close with them and because they struggled with the fact that he was gone.
He gave credit to his wife for keeping the family together while he was gone.
"My wife, especially, has done a great job," he said. "I think she's got a tougher job than me."
At the graduation ceremony, both Grant and Gavin Maiava smiled and greeted their relatives, and afterwards the entire family went out to eat to celebrate, Linda Maiava said.
Gavin Maiava said he was planning to go to Kansas City Community College, where he may study sports management.
He said he still wasn't sure about his future, though. The fact that he graduated from high school still hasn't caught up with him.
"Graduation came so fast," he said. "I had a lot of credits to get out of the way, but I got the work done faster and faster, and then one day they told me I was done. Then all of a sudden I had to start worrying about colleges. It's a big deal."
Grant Maiava plans to attend Johnson County Community College, where he will attempt to walk on to the basketball team.
Tony Maiava said Grant Maiava was talented at basketball and wants to do something with sports when he finishes college.
Linda Maiava said the twins graduated through the Lansing Educational Achievement Program, instead of Leavenworth High School, because it offered smaller class sizes and the teachers gave one on one attention.
As happy as the entire Maiava family was to see Grant and Gavin start a new chapter in their lives, there was one sad thought with which they had to deal.
Tony Maiava's military leave ended on Sunday, and at 11 a.m. he started his journey back to Iraq to finish his last eight months on assignment.
"I hate to go back, but it's my job," Tony Maiava said. "I've got to push these eight months aside, and, hopefully, everything will be fine. I'm just happy my boys graduated."