Making a statement
14 Lions state-bound after emotional regional meet
Topeka — The eerie aspect of Friday's Class 5A regional track meet at Hummer Sports Park wasn't that the Lansing High track team qualified so many athletes for state. It was how they qualified.
The Lions didn't just set personal records. They obliterated their old marks. They had dramatic finishes. They capitalized on opponents' miscues. Everything, it seemed, went Lansing's way. By the end of the night 14 Lions earned a trip to the state meet, which will be Friday and Saturday at Cessna Stadium in Wichita.
"Every year I sit down and try to determine how many (qualifiers) we'll get," LHS coach Errol Logue said. "I was figuring more around 10, and we got 14, so I'm very, very happy."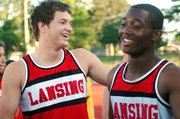 Logue was happy for those such as Tiffany Turner (shot put), Amanda Radovich (javelin), Jeff Slater (200-meter dash), Sara Eustice (pole vault) and Takeisha Jenkins (300 hurdles, 100 hurdles, 200) who he expected to qualify.
Then there were those on the bubble and the outright surprises who delivered jaw-dropping performances to squeak into state. Take senior Neal Watson, who set a personal record by almost five feet when he placed third in the javelin with a throw of 161-4. Then girls' 400-meter relay team also was considered on the bubble, but the squad of Natalie Groves, Jenkins, Eustice and Laura Abramovitz knocked nine-tenths of a second off their best time of the year to place third in 51.1.
"I knew coming in that it was going to be tough," said Abramovitz, whose relay team placed seventh at 4A state in 2003 with a time in the 53-second range. "We've never run 5A, and we all wanted it so bad. We just had to get out there and get it done, and we did."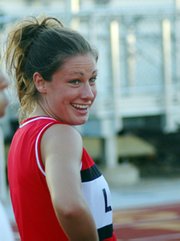 Moments after the girls' relay team earned a state berth, the boys' 400-meter relay team turned in the nail-biter if the night. Seeded sixth entering the meet, the squad of Mike Griffin, Lance Fink, Slater and E.J. Corinealdi squeaked into state by the slimmest of margins. Corinealdi caught one runner on the home stretch and fought off another for a fifth-place finish in 44.4 seconds - a half-second faster than their previous best time of the year. Another team was disqualified, though, and LHS was bumped to fourth place.
"We were on the bubble and we knew that we had to shave our time by a lot," Corinealdi said. "We gave it our all, had good handoffs and everything."
Thirty minutes after the relays advanced, sophomore Kara Ritchey got into the act. Ritchey had struggled all season in the 800-meter run and hadn't come close to matching her career best (2:39). A week earlier at the Kaw Valley League meet she even ran a 2:47. Ritchey hopped on the bandwagon of great performances, though, and qualified for state with a fourth-place finish in 2:37.5.
Ritchey attributed her success Friday to the fact that her teammates had turned in season-best efforts earlier in the day.
"Once I heard about that my adrenaline started pumping," she said. "You're so happy for everybody else, and then when it happens to you, to see all of them coming around congratulating you, it's really awesome."
Erin Rogers and Melissa Poe also qualified for state in the pole vault as they joined Eustice for a 1-2-3 regional sweep in the event.