LHS

ready for Holton rematch
Flash back to Nov. 6, 2004.
The Lansing High football team trudged off the field at Holton High School after being pounded, 69-22, in the Class 4A regional championship game.
"I remember them running all over us," said Matt Warner, Lansing's senior quarterback. "I'm not seeing that happening this year. We've got a new game plan and a new team."
The Wildcats, the No. 1-ranked team in the state, piled up 441 yards with their wishbone offense. The Lions countered with 293 yards, 235 of them in the air as Warner had his best game of the year.
Fast forward to Saturday - almost one year to the day since the two squads last met. Lansing (9-1) is back in the regional championship game and preparing to meet No. 1 Holton (10-0) at 7 p.m. Saturday at Frank Graham Field. At stake is a trip to the state quarterfinals.
Lansing coach Bill Pekarek said he didn't expect Holton to do much different from last year. The Wildcats have run their trademark wishbone offense for years and always have had success with it.
"I don't think they'll change much at all," Pekarek said. "They're going to try to run it down your throat and make you like it. That's kind of their style. We already know going into it that we're probably going to see two tight ends and the wishbone. We've just got to analyze what we did a year ago against them and try to come back and do a few things different."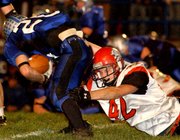 Holton tailback Nick Allen ran for 142 yards on 10 carries last year. Fielding Brenner added 137 yards on nine carries. Brenner is gone, but Allen returns. So does dangerous fullback Alex Mercer.
The running game has worked every week as Holton has stormed past opponent after opponent. It has outscored its opponents 531-65 this year. That includes a 48-0 win against Royal Valley on Tuesday.
"They're at a different level, and we're just going to step up to that level," Warner said. "We've stepped up to everyone else's level. It's not unreachable."
Lansing's defense will have to play its best game of the season to slow down Holton's rushing attack. That means linebackers Joe Kohl, Jeff Slater and Lance Fink will have to have huge games, as will defensive ends Steve Lillard and Ryan Robbins and linemen Logan Ryan, Angelo Barron, Casey Gates, Brett Wessel and Jason Bowman.
"We know they're going to be extremely physical and they're going to come out and hit us," Lillard said. "We've got to come out and play our best game of the year."