Mayes ends career at state meet
Lawrence — As Ashley Mayes began to run in the Class 5A cross country state meet on Saturday at Rim Rock Farm, something didn't feel right.
For the first time in her distance running career she felt lonely.
Mayes, a Lansing High senior, was the Lions' lone state qualifier. Teammate and fellow senior Erin Eustice narrowly missed qualifying. Junior Bianca Manago had her season cut short by a season-ending hip injury. That meant Mayes had to run solo in her final race.
"Running with the girls - Erin and Bianca - I know what they usually do in a race so I can rely on them just a little bit to know what I'm doing for a race," Mayes said.
Without her teammates there to help set her pace, Mayes was forced to strategize by herself. She devised a plan that went something like this: last race, so go for a medal.
Mayes knew it would be a long shot to crack the top 20, but she wanted to try.
"I thought about medaling, although there was a very slim chance of doing it," she said. "But I just wanted to run as hard as I could (and) run my best."
Photo Gallery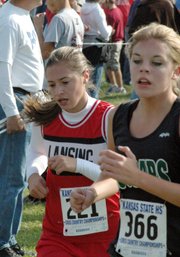 Ashley Mayes competes at the Class 5A state cross country meet
Lansing High senior Ashley Mayes was the lone LHS runner to compete at the Class 5A state cross country meet.
Mayes got off to a good start and worked her way through the pack early. At the 3/4-mile marker she was stuck in a pack of girls who were jockeying for 30th place. Mayes was running strong, but without her benchmark teammates at her side she had trouble keeping her pace. It turned out she'd gone out too fast.
"I don't think I've run with any of these people, except for Ottawa maybe, so it felt really weird," she said.
As the course wound down a steep hill and into the woods, Mayes gradually slipped back in the pack. She used a strong kick down the home stretch to hold off three runners, but she ultimately placed 89th in 14:40.75.
"I just wanted to try to run the best race I could," Mayes said. "It wasn't my best time, but this is a hard course and I wanted to try to see if I could stay with the pack as much as possible."
Mayes said that although she was disappointed with her place and her time, she was happy that her senior year ended the same way her freshman and sophomore seasons did - at state.
"That's real satisfying," she said. "I'm so glad that I qualified. I know that even if I didn't do well, I got here. My goal at the beginning was to qualify for state, and I got here, so I'm glad about that."
Mayes said she planned to organize a winter running program to help Lansing's distance runners prepare for track.
Her goal during track season?
"Qualify for state."