Real world: Exchange City
Lansing students get a preview of life after graduation
Life in the real world can be tough, as Lansing Intermediate School fifth-graders discovered after taking a field trip to Exchange City at The Learning Exchange in Kansas City, Mo.
"Jobs are harder than they look," Erica Terry said halfway through her visit on Friday, Oct. 28.
Last week, Lansing students participated in the Exchange City program, which has been in place for 25 years. The program is meant to be a real-life simulation that's realistic but understandable for fifth- and sixth-graders, said Megan Culver, Exchange City site manager.
Four LIS fifth-grade classes attended Exchange City on Thursday, and three participated on Friday.
Culver said the program involves more than the one day students get to visit the Exchange City campus - teachers receive four to five weeks of classroom curricula to present to students before and after the field trip. LIS fifth-grade teacher Debbie Ryan said she and other fifth-grade teachers had been presenting economic lessons for about one month before the trip. Students had to create resumes and interview for the jobs they wanted to do at Exchange City, which included accountants, managers, food service workers, bank tellers and a radio disc jockey. Students also elected a mayor, a judge and a police chief to run the city.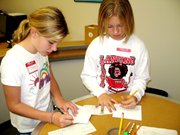 For two weeks before their trip Friday, Ryan's students met with students of fifth-grade teachers Kathy Meyers and Salena Corkhill to plan their business strategies.
On Friday, all the students' planning was put into action as they arrived at The Learning Exchange. The Exchange City area was a large open space with small rooms on every side where the students set up their businesses. The businesses included a sports store, a health and wellness clinic, a financial planning firm and a cafe.
After students had spent about an hour setting up shop on Friday - buying business licenses, cell phones and supplies - each of the elected officials gave a speech to open the three classes' Exchange City.
In her speech, Mayor Brianna Lozenski encouraged each classmate to "be a healthy citizen." Judge Jenna Hoyt reminded the students to "work nicely with everyone," and police chief Camden Chiles laid down the laws, which included no yelling, no fighting, no weapons, no chewing gum and no walking on the "grass," green carpet in the open courtyard that the businesses surrounded. Soon after the speech, most students were tiptoeing around the green areas to avoid the $5 fine. The fines, like all other transactions in Exchange City, were based on play money.
As soon as the city opened, students began receiving paychecks and going on breaks. Students had to deposit their checks at the bank before they could start shopping and using their checks and debit cards.
"It's fun. It's, like, real," Renee Johnson said on her lunch break. Renee was the marketing director for the International Bazaar on Friday, but she said if she could visit Exchange City again, she would want to be the radio DJ. After her break, she had to get back to her store, where "we make just about everything," she said.
The stores were selling a variety of goods.
"They're making some pretty cool things," said Isaac Doolin, an advertising executive with Sprint, the city's phone provider. At Sprint, students could pay $4 to use a real cell phone to call their parents, or they could buy a phone for the day that called other phones in Exchange City for $20.
"Right here is probably the cheapest phone you can get, even in the real world," Isaac said.
Other goods produced Friday included key chains, necklaces, "rain sticks" (noisemakers), foam picture frames and "ducktape" wallets. Big spenders could buy an Exchange City T-shirt for $12, which was a big portion of most students' paychecks.
Tina Orth was one of about 16 parent volunteers helping out at Exchange City on Friday. Orth said the students were learning "invaluable" life skills on the trip, such as realizing that checks represent money.
"I think it's great to see them excited about business prospects, earning money, being part of a community and learning how our economy works. That, to me, is exciting," she said.
Ryan agreed that students would learn a lot about money from the trip.
"I think they're really, really more aware of the money they spend," Ryan said. "They realize how far money will go."
This week, fifth-graders have been continuing lessons about what they learned on their trip. Follow-up activities included discussing problems encountered and how to assess needs versus wants when deciding what to buy, Ryan said.
Ryan said she had attended Exchange City with her classes for at least 12 years. The experience yields more than what she can accomplish just in class, she said.
"This is, like, incredible," Ryan said. "It's more kid-friendly and more real-world for them.
"They just get so excited."