Consultant's work put on hold
Council raises questions about awarding of contract
Work on a feasibility study for the proposed Lansing Regional Prisons Museum is on hold after City Council members raised questions about how the contract was awarded.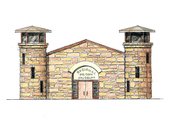 Council members Billy Blackwell, Dee Hininger, Andi Pawlowski and Harland Russell all voiced concerns during Thursday's council meeting about the $38,300 contract with Project Explore, an Overland Park consultant hired last month to develop a feasibility study and strategic plan to guide the city's Regional Prisons Museum Committee.
Three issues continued to come up in questioning directed at Mayor Kenneth Bernard: Where is the money for the study originating? Was the project bid? And why was the council not notified?
Bernard, who sits on the committee, explained most of the money was coming from the Lansing Historical Society. Other funding was coming from Lansing DAZE profits, and the remainder would have to be raised by the committee.
He said the project was put out for bid, that two firms submitted bids, but only Project Explore's bid was received before the deadline.
Blackwell pushed Bernard about the process, asking whether the contract was awarded during a meeting in which there had been public notification.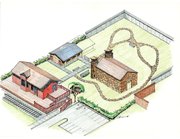 "We neglected to notify the press," Bernard said. "I'll take that one."
At one point in the exchange, an exasperated Bernard called on Council member Robert Ulin, another committee member, to help explain how the contract came to be awarded.
Ulin said that for Lansing to compete for an earmark in next year's federal budget process, a feasibility study had to be completed by the end of January. "We can't get from here to there without the feasibility analysis," he said. "They won't take our word for it."
"I understand your problem, Mr. Ulin, but I don't think it justifies moving forward and spending funds," Blackwell said. "I mean, we went down this road with an employee here awhile back who had an issue with that problem and got in trouble over it. I don't think we obligate money we don't have for a study."
As questioning from council members continued, Bernard announced he would stop work on the study and bring the issue to the council for a full airing at its Nov. 17 meeting.
"All right. What we'll do is we'll just top the study where it's at right now, we'll come back to the next council meeting and ask for council approval for the whole thing," Bernard said.
For more on Thursday's meeting, see the Nov. 10 edition of The Current.