Plant dedicated with eye toward future
Ribbon-cutting marks official opening of expanded Wastewater Treatment Plant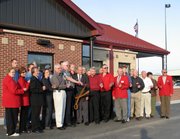 With an eye toward the future, Lansing leaders officially marked completion of the $15.8 million expansion of the city's Wastewater Treatment Plant.
"This plant should last Lansing for the next 20 years," Mayor Kenneth Bernard told a group of about 50 people, including City Council members, city staffers, Leavenworth-Lansing Chamber of Commerce members and area elected officials who gathered Monday at the plant for a ribbon-cutting ceremony.
Bernard said the expansion was designed to serve the needs of the city as it grows over the next two decades. "It should put us about at the population of a first-class city, 25,000, so we think the plant's good enough for that long," he said.
The expansion also is designed to handle up to 3.2 million gallons of sewage and wastewater per day. Before the expansion, the plant could treat 1.4 million gallons of waste each day.
Tony Zell, wastewater utility director, and his staff conducted tours of the expanded plant after the ribbon cutting, showing off the state-of-the-art basins, clarifiers, ultraviolet lights and other equipment designed to remove contaminants from wastewater and sewage and return a clean product to the environment.
"When we designed this, we figured we wanted to do it right the first time," Zell said of the expansion.
Planning for the expansion got under way in earnest in late 2001, and construction began on Labor Day, 2003, Zell said.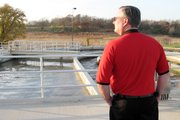 Bernard singled out Zell and Public Works director John Young for their work on the expansion.
"Tony was the main man on the scene ever since this thing started," Bernard said. "He's been instrumental in the design; he's been instrumental in all of the development. He and John Young were the two people that really reviewed the plans for the city and kept everything on course - sometimes kicking and screaming, but they always kept things on course."
Bernard also thanked others involved with the project: Kansas Department of Health and Environment, which provided a loan to the city for construction of the plant and has been involved with the plans and inspection of the plant; Jim Martin and Steve Sandberg of Professional Engineering Consultants of Topeka, the city's engineering consultant; the Lansing Correctional Facility, on whose land the plant is built; and Western Summit, the general contractor.
Parts of the expanded plant have been in operation since January of this year, but bits and pieces of finish work continue to be done. Bernard said the final "punch lists" should be completed sometime next week, allowing the entire plant to come online.