Council OKs plans for MidAmerican Bank
Plans for the first building in Towne Center have the blessing of the Lansing City Council.
At its meeting Thursday the council unanimously approved preliminary and final development plans for MidAmerican Bank's new bank and drive-through facility at Towne Center Pointe, at the southern end of the Towne Center, near 4-H Road and Main Street.
The plan calls for a 4,316-square-foot bank building and a separate 8,000-square-foot building north of the bank, although there is no timeframe or deadline for the second building.
Marvin "Pete" Payne, president of MidAmerican, told council members the bank would not be directly involved with the second building.
"The bank will not be developing the second lot," he said. "That will be sold to an investor or developer."
John Young, the city's Public Works director, said the development plan envisions the second building as a retail outlet, which prompted council member Bob Ulin to ask, "Is a restaurant retail? I'm serious."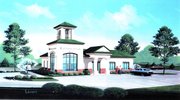 Council members have repeatedly stated their desire to attract businesses to Towne Center that generate sales tax revenue.
As for the bank building, City Administrator Mike Smith said MidAmerican was working on a fast track with the city to try to break ground before the onset of winter. That would put the project on track for an opening in spring 2006.
MidAmerican already operates a small branch in the Wood Oil complex across 4-H Road from the Towne Center site. That site would be closed with the opening of the new bank.
When the project was first announced last March, Payne said MidAmerican hoped to capture more of the growing Lansing market with its larger facility.
The new branch will offer a range of banking and financial services, Payne said.
"We'll have at least four drive-up lanes, all of the traditional banking products, investment products, loans," he said.
Since MidAmerican's original announcement in March, a competitor has announced its plans to locate at the opposite end of Towne Center.
Leavenworth National Bank is in final negotiations to purchase city-owned property at West Mary and Main streets, where it hopes to open a full-service bank.
In other business at Thursday's council meeting:
¢ Mayor Kenneth Bernard accepted a plaque from council member Don Studnicka given to the city on behalf of Eagle Scout Jonathan Biever.
¢ Bernard proclaimed Nov. 11 as Veterans Day and urged residents to "publicly reaffirm their strong allegiance to our flag, country and the men and women in uniform."
¢ The council unanimously approved a conditional-use permit requested by Jerry and Brenda Frese, owners of the property and operators of Moose Landing bed and breakfast, 24131 146th St. The conditional-use permit is good for a five-year period, which prompted council members to mention that the Freses may want to look at rezoning the property for business purposes. Jerry Frese thanked them for the tip and said he might consider the advice. Added Frese, "We would like to invest quite a lot more money into the place, and if we were happened to be turned down in five years (for another conditional-use permit), we couldn't recoup our investment."
¢ The council approved, on a 7-1 vote with council member Harland Russell opposed, submission to the Kansas Department of Transportation of a construction engineering proposal with Professional Engineering Consultants of Topeka. If approved by KDOT, the proposal would make Professional Engineering Consultants the engineering inspectors on the city's East Eisenhower Road project. The city's share of the inspection contract would be about $56,700 while KDOT would pick up about $210,000.
¢ At the urging of council member Billy Blackwell and others, Bernard directed city staff to meet with Danny Asher, developer of the Old Town Project in the 200 block of North Main Street. The project is behind the schedule agreed to by Asher and the city, and council members expressed concerns about the condition of the lot in front of Asher Garage, 210 N. Main St. The last of the project's three phases was scheduled to be finished in September, yielding a storefront row of offices facing Main Street. The lot is now a mostly dirt field.
"Are we just going to just continue to turn our head to that deadline or are we going to enforce that deadline?" Blackwell said. "I don't care either way, but I think turning our head or sticking our head in a hole and hoping it'll go away is not the answer."
City Administrator Mike Smith this week said that a meeting was scheduled for Nov. 18 between city officials and Asher.