Foundation members visit classes to distribute first-ever grants
Photo Gallery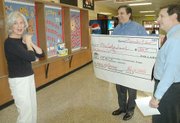 Teachers receive Educate the Pride grants
Four members of the Lansing Educational Foundation Fund advisory board - board president Kyle Kelly, vice president Dick Cameron, Chris Aus and Chris Cristiano - acted as a prize patrol Wednesday, Nov. 9, when they surprised eight Lansing teachers with large checks, roses and giant candy bars. The teachers received grants of up to $500 each from the group.
The Lansing Educational Foundation Fund prize patrol was out Wednesday at Lansing schools carrying six large checks and surprising teachers and students.
The checks - which were about four feet long and three feet tall - were for amounts ranging from $433 to $820 and made out to teachers whose projects were deemed worthy of the foundation's first-ever grants.
Four members of the organization's advisory board distributed the checks along with white roses, giant candy bars and instructions on how the recipients could claim the grant money.
The organization had dedicated $3,000 for grants to Lansing school district teachers for up to $500 apiece. Its intentions were announced to teachers in May, and applications were due in September.
Kyle Kelly, president of the advisory board, said the 11 board members reviewed and graded nine grant applications. Seven grants were awarded.
The board tried to "spread $3,000 as far as it would go," to serve as many teachers as it could, Kelly said.
Kelly said what he looked for in an application was "which project helped the most kids and would benefit them for the longest period of time."
In the future, Kelly said he hoped the foundation would have more money to give out to reward the teachers who take time to apply.
"Teachers really put some thought into it," he said. "I think it really showed that our teachers cared."
Angie Grady, second-grade teacher at Lansing Elementary School, was granted $447 for her proposal, a Bal-A-Vis-X system.
Bal-A-Vis-X helps students who are struggling in reading to play special games with balls that increase connections between the brain's hemispheres. The connections help students to read left-to-right more efficiently and increase their ability to read at a reasonable rate, Grady said.
When she first heard about the grants, Grady said, she intended to apply for money for a new computer. She put that idea on the backburner, she said, when she attended a class in Wichita this summer to learn more about Bal-A-Vis-X.
The program was developed by a Wichita teacher, and Grady said schools in Wichita have used Bal-A-Vis-X successfully with many grade levels.
"It's something that would benefit anybody," she said.
At LES, Grady will use the materials in her classroom, and she said she would also share with the school's physical therapist. In addition, Grady said she intends to order two instructional videos to place in the library for other LES teachers to watch if they would like to learn more about Bal-A-Vis-X.