Red Devils repeat as league champs
The Northeast Kansas Athletic Association third- and fourth-grade football Super Bowl featured a rematch of last year's title game, but the Lansing Red Devils made sure this year's contest wasn't nearly as close.
Lansing (16-0) used an explosive first half to throttle Pleasant Ridge, 36-12. The victory capped a second straight undefeated season for the Red Devils. They beat the Rams, 8-0, for the 2004 championship.
"You would never expect it. It's unbelievable," Red Devils coach Rick Schneider said of his squad's back-to-back perfect seasons. "We're very thankful and we're very fortunate."
On Friday night at Lansing High School, the Red Devils were very good. Pleasant Ridge scored a touchdown just 2:13 into the contest when Blake Graham squirted through the defense and raced 67 yards for a touchdown. Lansing faced its first deficit of the year, but it wouldn't last long.
The Red Devils answered the early score with a three-play, 64-yard scoring drive that was capped by Joe Schneider's 55-yard run. Dante Gibson caught a pass from Schneider for the two-point conversion and an 8-6 lead.
Photo Gallery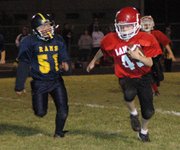 Red Devils repeat as league champs
The Lansing Red Devils, a third- and fourth-grade football team, won the league championship for the second year in a row. The Red Devils are 16-0 in the last two years.
"I was interested to see how our team would respond to that because it hadn't happened all year," Rick Schneider said of his team falling behind early. "We held them on the extra point and then we came back and were able to punch one in right away, so that took a little bit of the pressure off."
The Lansing defense held Pleasant Ridge to a three-and-out on its next possession and the Rams were forced to punt. Isaia Adkins returned the kick 25 yards, thanks in part to a huge block by Zach Jackson. That set up Schneider's nine-yard touchdown run. Jackson then caught a pass from Schneider for the two-point conversion.
The Rams were unable to answer on offense because they lost the ball on each of the next two kickoffs. Adkins and Jack Reilly each recovered a kickoff for the Red Devils. The first led to a six-yard touchdown by Jackson. The second set up an 11-yard scoring run by Schneider.
By halftime the Red Devils boasted a 30-6 lead and were well on their way to victory. Jackson added a 56-yard touchdown for Lansing in the third quarter. Graham also returned a third-quarter kickoff 65-yards to the end zone for Pleasant Ridge.
"We just stressed fundamentals and execution," Rick Schneider said. "We had a lot of great effort from a lot of kids, and the parents worked hard, too. We had a great season and we had a lot of fun."
Red Devils team members were Quinton Pfrimmer, Dante Gibson, Jace Bell, Sean Ellis, D.C. DePaulis, Joe Schneider, Evan Hofer, Zach Martin, Patrick Gaumer, Zach Jackson, Lance Schimke, Isaia Adkins, Kolden Prue, Jay Kidder, Riley Weeks, Jack Reilly, Matt Spezia and Justin Smith. Coaches were Rick Schneider, Paul Hofer, Mike Reilly and Brian Jackson.