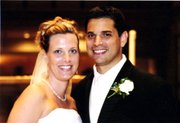 Janel Armon and Thomas Brown were married Aug. 6, 2005, at Cathedral of the Immaculate Conception in Kansas City, Mo.
The bride is the daughter of Allen and Diane Armon of Fairway. The groom is the son of the late Thomas Brown III and Linda and Richard Gilliland of Leavenworth.
Matron of Honor was Lynne Cobin. Bridesmaids were Tracey Brown, Janae Brown, Sarah Thomas and Nicole Vette. Best man was Bart Jacobson, and groomsmen were Martin Minnich, Dustin Armon, Mark Carlson and Jeff Wagner.
The wedding party also included flower girls Maggie Wagner and Jill Carlson; ushers Chad Gilliland, Eric Tadda and Dave Walker; gift bearers Ryan Carlson and Nick Wagner; and personal attendant to the bride Carey Fauss.
A reception was held at the Little Theater of the Kansas City Convention Center.
The bride is a graduate of Shawnee Mission East High School and a student of the school of nursing at Avila University. The groom is a graduate of Lansing High School and the University of Kansas. He is an event manager for the Kansas City Convention Center.
After returning from a honeymoon in Riviera Maya, Mexico, the couple is at home in Kansas City, Mo.