Church, pastor celebrate milestones
Twenty-four years ago, Ronald Reagan was president, the United States launched its first space shuttle mission, MTV made its debut and the Rev. Kenneth E. Lake moved his five young sons and wife from Louisiana to Kansas to begin his job as pastor of a rural Leavenworth County church.
Today, Lake, 59, is the father of eight sons and grandfather of 17. Sunday he celebrated his 24th anniversary as the pastor of Emmanuel Baptist Church, 24481 139th St., and the church's 34th anniversary.
All Lake remembers from those early days is that he arrived at the church on the second Sunday of November in 1981, he said. Since then, the church has gone through changes, beginning with a tornado that destroyed the original structure nine months after he arrived; a year ago, the church was annexed into the city of Lansing. At the time of the 1982 tornado, Lake's eldest son, Ken, was 9 years old.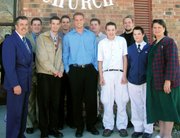 On Sunday, Ken, now a pastor of a church in West Virginia, gave the sermon. Lake's younger sons - Ron, William, Anthony, Nathan, Andrew, Micah, and John - with their mother, Teresa, gathered in the pews to celebrate the anniversary.
He told the congregation of around 40 people gathered how he started in the ministry not entirely by choice but through the influence of his father. He said his father told him, "Son, I'm going to be a preacher and you are going to be my song leader." Lake said "No." His father asked him again and for a second time Lake said "No." On the third request, Lake, then 16 years old, decided it would be best to agree.
At the beginning of the service, Lake introduced his family and joked that because he came from a family of girls, he wanted his first child to be a boy but then they just "got stuck having boys." Lake met Teresa as a student at Baptist Bible College in Springfield, Mo. They were married in 1971 and their first son was born 11 months later.
Middle son Andrew coordinated the gathering of the family for the service Sunday. He would have liked for it to be a surprise but that proved nearly impossible. Ken, Anthony and Nathan are also involved in church ministry and live out of state.
"We were going to surprise him, but then we'd only see him for two days," Ken said.
The sons from out of state flew in on Thursday and left on Tuesday, and they would have lost time with their father if they had waited to surprise him until the Sunday service.
Lake also received calls from church members about flight schedules and caught on about the upcoming surprise.
"It was hard for the church to keep it a secret. I was excited that they were coming," Lake said.
In the service, church members presented Lake with cards to show their gratitude and also presented him with an anniversary cake.
During their time together the Lakes posed for a family portrait, played golf on Saturday, and watched the Kansas City Chiefs play the Buffalo Bills on Sunday after the service. In his sermon, Ken joked about his large family taking their portrait and said he would be pleased with the results as long as his head wasn't cut out of the final picture.
Andrew said the most difficult part of coordinating getting everyone to Kansas was convincing Nathan, who lives in New York, to come and miss going to the Chiefs-Bills football game in Buffalo, N.Y.