Lions open season as No. 1 team in Kansas
The Lansing High wrestling team won't be sneaking up on anybody this year.
LHS caught people off-guard last year when it placed sixth at state during its first year in Class 5A. Eleven state qualifiers are back from that team, and now all eyes are on the Lions. The Kansas Wrestling Coaches Association tabbed them as the preseason No. 1 team in the state.
"It was real nice last year to kind of fly under the radar, come in and surprise a lot of people, especially the 5A's that weren't familiar with Lansing," LHS coach Ron Averill said. "That's no longer the case."
Averill said the Lions would embrace the ranking because they've worked hard to become one of the top teams in Kansas.
"They really stepped up, opened people's eyes and really showed them what we're about (last year)," Averill said. "Now we have so many seniors this year that they're really wanting this to end up being the season that they'll talk about for the rest of their lives."
Junior Kyle Buehler cautioned that people shouldn't read too much into the early ranking. After all, nobody has wrestled a match yet this year.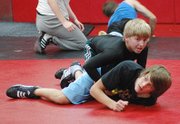 "It's good to know that we're up there, but you can't really look into it too much because the season hasn't even started yet," he said. "There are a lot of things we don't know yet. Stewart (Jones, two-time state qualifier) is no longer on the team. Aquinas was bumped down to 5A, and they won 6A state last year. There's a lot of things we really don't know yet, but we know we've got a lot of talent, so it should be a good season."
Lansing's talent pool is as deep as it has ever been. Because of that, the ranking came as little surprise to the Lions. Junior Kyle Grape - a state champion last year at 140 pounds - and senior Ryan Civils - fourth last year at 189 - both are ranked No. 1 in their respective weight classes. Buehler - fourth last year at 125 - opens the season ranked second. Senior Sean Flynn is ranked third at 130 pounds after placing sixth last season. Nick Flynn, a sophomore who placed sixth at 112 last year, is ranked fifth this season.
Senior Lance Fink will begin the year ranked third at 171. Senior Dennis Kessler is ranked fifth at 152 and senior Logan Ryan is slated sixth at 215.
With a No. 1 team ranking and eight Lions ranked in the top six in their respective weight classes, it may seem hard to believe they could need any more motivation. Kessler said the preseason predictions give the squad one more goal to strive for.
"We plan on taking it and running with it," Kessler said. "They say we're supposed to be the state champion this year. We've got to prove them right."
The state meet isn't until late February and there's work to be done between now and then, so Averill said he doesn't want his squad looking at rankings just yet.
"We need to just focus on here and now and really get fired up about taking care of business in all of this preparation so that every time we step on the mat we're prepared to do the best that we've ever done," he said.