National Honor Society adds new members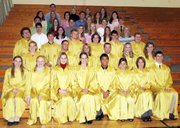 The National Honor Society at Lansing High School held an induction ceremony for 21 new members Tuesday at the LHS gym. New members, without robes, are senior Brent Huffman and juniors Amanda Andrews, Jessica Bradford, Kate Courtney, Elizabeth Cristiano, Stephanie Eckert, Matthew Fischer, Geoffry Fowles, Natalie Hall, Abby Hauver, Kristen Kirby, Tang Lin, Mary Lyon, Bianca Manago, Adam New, Miranda Nichols, Justine Patton, Kara Ritchey, Heather Schwind, Holly Schwind, Lauren Summers and Peter Willcott.
Two-year members, in robes, are seniors Jessica Riese, Katie Adams, Rachel Darrow, Lauren Griffin, Cory Collins, Kim Cavaleri, Megan Logan, Brian Smith, Casey Welch, Matthew Warner, Dana Sanders, Chris Rohan, Amanda Radovich, Kelsey Reed, Demarin Montgomery, Nate Markovetz, David Kern, Jessica Garrett, Stephen Fischer and Aaron Boorem. Not pictured is two-year member and senior Shawn Jung.