Same name, different game
Exchange student finds even tennis is an adjustment in America
Editor's note: Kerstin Probst is an exchange student at Lansing High School. She is from Gueltlingen, Germany, and her tennis club is in Calw-Stammheimm. She played on the varsity tennis team at LHS this fall.
I have played tennis for eight years. I thought I new the sport very well, and I thought it couldn't be much different from how it's played in Germany.
I was mistaken.
There were a lot of things about American high school tennis that were different here from my club back in Germany.
If teenagers play in a German tennis club, they play year-round. During the winter season - from October to April they play indoors. From May to September they play outside. In Germany, most teenagers practice with their three- or four-member team just once per week.
Here in America, high school girls play for barely two months, and they have practice every day.
The daily practice was a big adjustment for me. On one hand, it is very good having practice nearly every day after school so that we can have short, intense practices. On the other hand, the season is very brief. If you want to practice the whole year, you have to do that in private time out of school. That is more expensive and time-consuming than high school practice.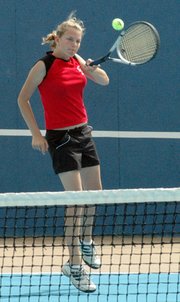 Not only are the practices and season lengths different. So are the courts. Here we play on hard courts. In Germany we play on red sand courts. On hard courts the ball springs up very different than on sand courts. It bounces higher on hard courts than sand courts. In addition, players have to run very fast back on hard courts. On sand courts, players can slide, which means they don't have to stop and turn.
If I play club tennis in Germany, we keep score a little bit different. We have to play six games for one set and on two win sets. Here it is just one set to eight, which is sometimes very difficult, because you have to play from the first point your best tennis.
There are additional differences, such as scheduling. In Germany, teenagers have only six or seven matches against other clubs in their league from May to July. If they are successful and earn first place in the league, they go up to the next higher one. If they finish last, they are relegated to a lower league. In some ways it is similar to moving from the junior varsity to the varsity level here.
Another major challenge for me was the weather. In Germany, tennis is played both indoors and outdoors. In Kansas, high school tennis is played outdoors only. Early in the season that wasn't a problem, but late in the year it became tough because of the wind, rain and cold temperatures. Before coming here, I never had played outside in October. I had a big problem with the wind and wasn't able to play my game. That was frustrating.
A very good thing about playing here was that I learned lots of new strategies and could practice every day. That made me a better player. Also, my baseline play and my serves became a lot better. My serve is stronger now.
Since the season ended, I have played occasionally with teammate Heidi Schultz. Also one day Heidi and I will play against our coach, Rachel Elkins, and my host father, Rob Bristow.
When I go back to Germany next year I will play tennis in my old club. My goal is that I continue to play more powerful, have more constant strokes and maintain my level from right now or improving it. Also, I will try to play a lot more in my free time than in the past.
I learned so much here from the tennis team. When I return to Germany and play tennis I will bring with me the different practice techniques and improved mental strategies that I learned here. With that, I will be a better player..