LMS

dominates at home tourney
The Lansing High wrestling team is ranked No. 1 in the state, but the future of the program rests in the hands of wrestlers who train a few blocks away at Lansing Middle School.
The LMS wrestlers played host to the Lansing Invitational on Saturday, and of the 34 wrestlers on the team, 24 earned top-three finishes in their respective weight classes at the nine-team tournament.
Participating schools were Lansing, Linwood, Pembroke Hill, Patton, Lawrence West, Tonganoxie, Lawrence Central, Leavenworth West and Leavenworth Warren.
Photo Gallery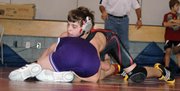 Lansing Invitational wrestling at LMS
The Lansing Middle School wrestling team played host to a nine-team tournament on Saturday.
Kevin Keller, Spencer Blew, Tyler Terron, Cullen Demarest, Gage Thackston, Dillon Scanlon, Nathan Wessel, Tyler Baughman and Josh Martin all earned first-place finishes.
Second-place winners were Jacob Hansen, Ethan Williams, Cory Andrews, Billy Kidder, Tyler Hill, Travis Denney and Ben Kozak.
Lansing's third-place finishers were Ryan Curran, Peter LaMoe, Parker King, Anthony Gruber, Jeremy Marler, Mike Grote, Zach Bradley and Zach Hammer.
LMS has three meets remaining in its season. It will compete at 6 p.m. Monday at Silver Lake against Lawrence West and Silver Lake. Lansing then will compete at 4 p.m. Wednesday at home against Pleasant Ridge and Patton. It will close out the season on Thursday at Warren Middle School against Leavenworth West and Warren.
Eighth-grade wrestlers are Parker King, Nick Rosene, Gage Thackston, Cullen Demarest, Jeremy Marler, Jacob Hansen, Travis Grogan, A.J. Brinkley, Brandon Kreutzer, Billy Kidder, Josh Martin, Tyler Hill, Travis Denney, Ben Kozak and Shawn McDaniel.
Seventh-grade wrestlers are Cory Andrews, Tyler Baughman, Spencer, Blew, Zach Bradley, Ryan Curran, Robert Fletcher, Mike Grote, Anthony Gruber, Zach Hammer, Ethan Johnson, Kevin Keller, Peter LaMoe, Tevin Mathews, Matthias Miller, Nick Pfrimmer, Dillon Scanlon, Tyler Terron, Nathan Wessel and Ethan Williams.
The team is coached by Ron Averill, Lee Matzeder, Scott Terron and Russ Baldwin. It is managed by Heather Averill, Nesha Bowman, Brittany Smith and Ezekiel Stevenson.