Production seeks to give 'Thanks'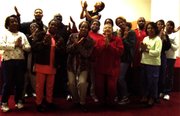 Sharon Smith doesn't want giving thanks to be confined to Thursday. So, Saturday at the Riverfront Community Center in Leavenworth, she'll direct "Prayerful Thanks," a production she hopes will provide an entertaining night out.
"I just want the community to come together," Smith said. "Everyone can come and give thanks and cry."
Smith, of Leavenworth, is producing "Prayerful Thanks" with area theater group Art in Motion. She said she collaborated on the script with three other members of the group, including Joyce Williams, director of AIM and Lansing resident, and started practicing the show in September.
The performance will include stand-up comedy, skits and songs. The show features vocal group Quiet Fire, which includes Smith. Smith said the group disbanded in 1999, but four of the five original singers will reunite for the show.
"And if a record contract comes out of it, we won't be mad," she said.
Her vision for "Prayerful Thanks," Smith said, is "to pull local talent that I know about together for the holiday season." About 30 people are participating in the production, she said.
Smith didn't have to look far for some of the talented individuals she recruited. Her mother, Bobbie Flucas, will play Big Momma. Smith said the individual sketches all revolve around community members remembering the now-deceased Big Momma.
Bruce Davis, Lansing resident and a narrator in the show, described Big Momma as having "the Kool-Aid house," a place where neighborhood children gathered for stories, cookies and friendship. Smith said the show demonstrated the tradition of "growing up with people who made a difference in your life."
One cast member who needed a little coaxing to get onstage was Smith's granddaughter, Shari Joyner, 11.
"She's good at stuff like that, but she's never been in front of so many people," Smith said. She said she advised Shari to pretend the audience was not there.
"At home, she's got it," Smith said.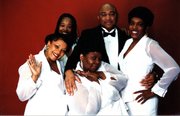 Shari's not the only one new to her role. "Prayerful Thanks" marks Smith's first directing venture. Though she has a background as a music minister at her church, Smith said directing the show has been a learning experience.
"Honestly, I don't think I'd like do that again," she said about directing.
"Only if it pays," she added.
Still, Smith said she was willing to try her hand at directing "Prayerful Thanks" to use her talents.
"I want to do what I'm here to do," she said. "I don't know what that is, but I believe it's in the vein that I'm moving."
But Smith's ambition is not just for herself. She said she wanted to give others an opportunity to act and sing.
"I'm hoping that this will show members of the community that are interested in the arts that there's a place for them," Smith said.
"If you've got the heart, we've got the stage."