Published work no fish tale for middle school poet
"One fish, two fish, red fish, blue fish" may be the most recognizable poem about fish to date, but Mary Lou Martin may give the Dr. Seuss classic a run for its money with her poem, "Spectacular," about neon tetras.
Mary Lou's poem will be published this month in a collection of student literature from the Library of Poetry.
An eighth-grader at Lansing Middle School, Mary Lou said she wrote the poem last year in her seventh-grade English class. She chose the topic, the neon tetra, because it is one of her favorite fish and she used to raise them, she said.
Though she loved the subject, the poem didn't exactly flow out of her pen.
"It was actually really hard to write that poem. Without God, I probably wouldn't have been able to do it," she said.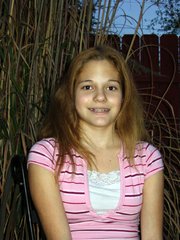 To satisfy her assignment, Mary Lou had to use a certain number of lines, nouns and adjectives - "that's what made it really difficult," she said. Mary Lou said she started typing the poem and deleted it at least three times before settling on the final version.
But she did her best to use the required nouns and adjectives to paint a picture of the fish with her words, she said. In the end, Mary Lou said her labor paid off.
"I would say I was quite satisfied with it," she said.
Mary Lou received another confidence boost when her seventh-grade English teacher, Alicia Moody, chose her poem as one of several to submit for potential publication.
Moody said she uses the publication incentive every year. Last year, she said, she submitted about 20 poems and most were published. Moody said her students get so excited when their poems will be included in a collection that they call her during the summer to tell her.
Mary Lou said she received a letter in May notifying her that her poem would be printed in a book called "Gifted."
Since writing "Spectacular," Mary Lou said she's tried to implement what she has learned. She said in her writing assignments this year she has put a lot of thought into them and tries to make the words flow.
Her poem's success has also motivated her to do well in school.
"It's pushed me really hard to focus on my grades to keep them good," Mary Lou said. She said she hoped to be able to get scholarships for band, voice or volleyball. "Or maybe writing," she added.
Despite her achievement, Mary Lou said she doesn't want to be a writer.
"My goal in life is to become a singer," she said.
The poem:
"Spectacular"
The rainbow
Sparkling and elegant
Glows and sways
Calmly, the neon tetra