School's "operation" a success
Photo Gallery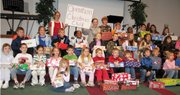 Wallula Christian School collects gifts for Operation Christmas Child
Students at the Lansing School sent 79 boxes filled with gifts for children around the world.
Seventy-nine shoe boxes full of toys gathered by Wallula Christian School students are on their way to surprise children whose lives have been touched by civil war, natural disaster or extreme poverty.
The Wallula schoolchildren loaded the boxes of toys as part of "Operation Christmas Child," a project of Samaritan's Purse, an international relief organization.
"This has been a very hands-on project for the kids to do," said Teresa Hilliard, a parent of a Wallula School student and an organizer of the private Lansing school's project.
The shoe boxes were filled with gifts destined either for a girl or boy between the ages of 2 and 14 years old.
One box, for example, for a boy aged 5 to 9, contained a Nerf ball, toy worms, glue, colored markers, Silly Putty and a small "Nemo" toy. Also packed in the box was an "All About Me" coloring page that included the name, address and a picture of the student who put together the box, in case the recipient wants to become pen pals with the sender, Hilliard said.
The boxes last week were stacked in the foyer of the school, 23785 139th St. Before the students loaded the boxes into Hilliard's van for transport Thursday to Kansas City, Mo., they took the boxes into the Wallula Christian Church sanctuary for pictures and a prayer.
"We just want other kids around the world to learn about you and your love : and we ask you to bless each and every gift, Lord, and let the children feel your love," prayed Teresa Bradshaw, school director.
Operation Christmas Child kicked off four weeks ago at Wallula Christian School with the students screening a video about the project.
"They got to see footage of kids opening their boxes. It had kids who were sick or starving. It was very motivational," Hilliard said. "Some of the kids got so excited they said, 'We've got to go out tonight and fill our box.'"
Hilliard took the boxes to a center in Kansas City, Mo., where each will be processed before making its way to its ultimate destination - a child's hands. Last year, more than 7.4 million gifts were given to children in 95 countries as part of Operation Christmas Child.