Second chance at soccer
Richardson loving life at Johnson County
Throughout her senior season at Lansing High, Monique Richardson was adamant that she wasn't going to play sports in college.
The point guard in basketball and steady midfielder in soccer was certain sports wouldn't be a part of her college experience unless it took place in intramurals. She also was certain her college experience would take place a long, long way from middle-of-America Kansas.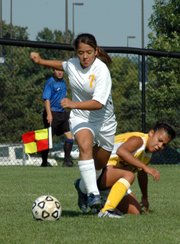 An unexpected turn of events and a surprise visit from a college coach led to a change of plans, however, and Richardson found herself as a lock-down defender for the nationally ranked Johnson County Community College women's soccer team this fall.
The scenario that played out was one that Richardson never envisioned happening, but she said it has worked out for the best.
"I love it," she said of playing soccer at JCCC. "Being in Kansas, I thought I'd never stay here, but I'm having a great time."
CHANGE OF PLANS
As her senior year unfolded in the fall of 2004, Richardson had a head start on most of her classmates in that she already had decided where she would attend college. She was going to follow her father's footsteps and attend the University of Hawaii. Goodbye Kansas cold. Hello beaches, sunsets and surfboards.
"My brother and I were supposed to go to Hawaii and live together," she said. "I was banking off his paycheck, so when he told me he wasn't going down there, that changed things."
Her brother had joined the Air Force, and the possibility of being sent to Iraq contributed the change of plans midway through Richardson's spring soccer season.
"He's supposed to get sent out next year if he gets his paper work done," she said.
Hawaii was a long way to go with no family around and no way to make a spur-of-the-moment trip home. Richardson knew that, so she began rethinking her plans. A few weeks later, Johnson County assistant coach Wendy Louque showed up to a LHS soccer game and pitched the idea of playing college soccer. Suddenly it sounded appealing to Richardson.
PERSONAL REASONS
By playing soccer for Johnson County, Richardson could be close to home and live with good friend Emily Goodlin, a 2005 LHS grad who was going to play volleyball at JCCC. Goodlin and her family had been influential in Richardson's life for a number of reasons.
First there was the friendship. Then Richardson's father, U.S. Army Maj. Michael Richardson, was sent to the Middle East because of the Iraq War, so the Goodlins served as an adoptive family of sorts. Then came church.
"Emily's mom is a pastor at Household of Faith, and that's one of the biggest reasons I stayed," Richardson said. "That's what I'm into now. I love it, and I love the Goodlins."
CHANGE OF POSITION
When Johnson County coach Jim Schwab signed Richardson, he had visions of her being a key cog in his high-powered offense as an outside midfielder. Then, as the season began this fall, Schwab realized he had a problem on his hands. His roster was loaded with midfielders and forwards but had very few defensive players.
He asked Richardson if she could make the adjustment to defense. Even though she'd never played in the back, she agreed to try.
The move paid off as the Cavaliers shut out their first 10 opponents of the year.
"She's a tremendous marking back," Schwab said. "Sometimes the adjustment (to a new position) takes half a season, but the way she's been handling herself, it's almost like that position was made for her. She feels comfortable back there."
Richardson admitted that defense was tough at first. She had the speed and toughness to play the position, but she needed to improve her distribution skills.
"I usually play the whole game unless we play a bad team or I screw up," she said. "I'm still getting used to being a defender because I've never played defense in my life."
With Richardson starting in the back, the Cavaliers outscored their opponents 84-12 and spent part of the season ranked in the top 10. They ended the season with an 18-2-1 record and No. 13 national ranking.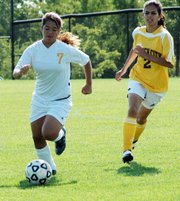 LOVE OF THE GAME
Once certain she wouldn't play sports in college, Richardson now wants to play soccer for four years. She has one year of eligibility left at Johnson County, and Schwab said he has high expectations of her.
"If every kid was like her, my job would be a little easier," he said. "She does a good job. She's motivated. She's playing 85-88 minutes a game for us. She's a rock back there. She's a good part of our foundation back there."
After her sophomore year, Richardson hopes to transfer to a four-year school to complete her eligibility. The success she had with the Cavaliers this year already garnered her some looks from four-year programs. Southern Baptist University in Missouri has talked to her.
She also might try to attend the University of Hawaii and fulfill her tropical island dream once and for all - if soccer can be part of the equation.
"That's far out there," she said, "but I'm still reaching for it."