Lansing woman crowned Miss Kansas
USA
Ashley Aull to compete for Miss
USA

title in April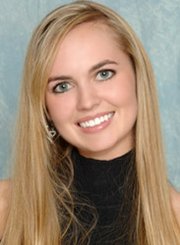 Overland Park — A 20-year-old Lansing native, Ashley Aull, is the new Miss Kansas USA.
Aull, who is in her second year of studies at Johnson County Community College, won the title Sunday night during the Miss Kansas USA Pageant at the college's Carlsen Center.
"It's overwhelming," Aull said about winning the crown after finishing as fourth runner-up in last year's pageant.
Aull said she found it difficult to describe her feelings when she learned she had won the crown.
"They didn't call my name and I won. It was incredible," she said.
Competing as Miss Leavenworth County USA, Aull was the judges' overall choice from a field of 31 contestants. Women competed in three categories: swimsuit, evening gown and interview.
Aull, a 2004 Lansing High School graduate and the daughter of Melanie and Alex Aull, said she trained for the pageant by working out, eating a healthy diet and keeping up on current events.
"You kind of get to know yourself that way," she said.
She's no stranger to competition; during her LHS days, Aull was a member of the state champion volleyball team and earned All-Kaw Valley League honors. She also had competed for the title of "America's Homecoming Queen" after winning the state title a year ago.
With the Miss Kansas USA title, Aull now turns her attention to the 2006 Miss USA Pageant. She said she planned to continue going to school next semester at Johnson County but would take time out for the Miss USA Pageant, an event that takes place over a three-week period in Baltimore and concludes with a live telecast on April 21 on NBC.
She'll also travel throughout the state, making appearances as Miss Kansas USA.
For more about Aull and her run to the Miss Kansas USA title, pick up Thursday's Current.