New Orleans — The son of a Lansing couple knows this American city in ruin firsthand.
He and thousands of soldiers from Army posts throughout the United States descended into the heart of the worst natural disaster known to the United States in modern times for one simple reason - Americans desperately needed their help.
Army Capt. Jason M. Holder, son of retired Lt. Col. Charles and Gail Holder of Lansing, is an airborne rifle company commander assigned to the 2nd Battalion, 505th Parachute Infantry Regiment at Fort Bragg, N.C. In the aftermath of the devastation wrought by Hurricane Katrina, Holder made way to New Orleans to help.
Arriving in the city days after Hurricane Katrina struck, Holder saw the remnants of a city that once stood with stately grandeur.
"The flooded areas of town don't look like an American city. It looks more like what you'd expect in a war-torn third world country," he said. "The town has been devastated, and the water smells and looks like raw sewage is floating in it. In one part of town, people are living in absolute filth, and in others it's fairly clean.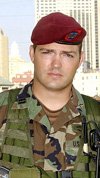 "One thing remains constant - the people of this city are very strong and very determined to stay in their homes and have not lost hope that things will improve. All of them love us and have received us with open arms."
Diverting from traditional Army training to assist fellow Americans in need is an important gesture, Holder said.
"We volunteered to defend America and we are doing just that. This mission has a more direct link to the people we love and support. We have already rescued over 700 people. I would have gladly come here for the opportunity to save just one," Holder said.
Helping the people of New Orleans is likely to be a lasting military memory for Holder, but his experience is vast.
"I recently returned from Baghdad, Iraq, in March of this year, and it didn't look too much worse than this," he said.