Church, society sales successful
Saturday yard sales sponsored by the Lansing Historical Society and St. Francis de Sales Catholic Church both benefited causes besides the joys of bargain hunting.
The church sale benefited Catholic Relief Services' hurricane victim assistance program, while the Historical Society's sale went toward the society's general budget, which is used to run and maintain the Lansing Historical Museum, 115 E. Kansas St.
The yard sale at St. Francis de Sales, 900 Ida St., was the goliath of the two, spilling over the equivalent of two small yards with merchandise that ranged from books and clothing to exercise equipment and a reclining chair.
The idea for the yard sale originated with parishioners Lexie Hofer, 12, and her brother Evan, 9.
"I was just so bummed about people in New Orleans that I felt we should do something about it," Lexie said.
She and her brother donated items to the sale, including toys, clothes and shoes, and both helped all day at the sale, which began about 6 a.m. and ended about 6 p.m.
Evan baked items for the sale, including a pineapple upside-down cake and cookies.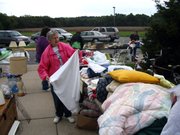 Their mother, Gena Hofer, said the sale pulled in $2,572. Combined with $8,167 the church has collected during services, St. Francis de Sales collected $10,739 earmarked for hurricane relief, she said.
The Historical Society didn't have quite the base of members to draw upon for donated items, but the group's sale, on the museum's deck, featured some bargains worth hunting for. A pickup truck bed-liner, for instance, was sold for $10, and a three-volume, unabridged dictionary that includes a seven-language dictionary sold for $3.
Joyce Burner, Lansing, found a brand-new set of jumper cables for $2, and Lana Blandin Leavenworth, found a couple of milk bottles from Meyer's Dairy, while her husband, Larry, who collects old tools, bought an old tape measure.
Verlin Tompkins, the society's secretary, said he was pleased the organization's first yard sale pulled in about $500.
"We were satisfied - we had a lot of stuff and got rid of a lot of stuff," he said.
Tompkins said he bought several items himself, including a two-gallon container of new crayons for his grandchildren, binoculars, a compass and a travel alarm clock.
"It was a nice occasion, and we didn't get very wet," he said.
Tompkins said society members feared otherwise when a light rain began about 9 a.m, let up, and began again about an hour later.
Members covered sale items with plastic, and nothing was ruined, Tompkins said.
Both the church and the museum took their unsold excess to organizations that might use them: the Leavenworth Assistance Center and the Disabled American Veterans in Leavenworth.