JV

volleyball pulls together, wins

KVL

title
Shawnee — A knee injury and a new offensive scheme created one chaotic week for the Lansing High junior varsity volleyball team, but the adversity wasn't enough to keep the Lions from achieving their goal of being Kaw Valley League champions.
Lansing entered the Shawnee Mission Northwest Tournament on Sept. 24 on a hot streak. LHS was 13-3 and knew it had a good chance of winning the tournament. Then, during its first match of the day against Blue Valley North, sophomore Kristen Jensen went up for a kill. When she landed she heard a pop. That's when everything changed.
Photo Gallery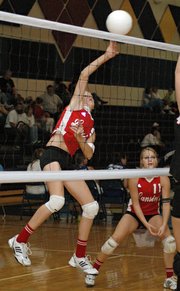 JV Volleyball wins Kaw Valley League title
The Lansing High junior varsity volleyball team won the Kaw Valley League title on Saturday at Mill Valley. The Lions rallied to beat Mill Valley in the semifinals and then rallied past Bishop Ward in the finals.
"She went up for a hit, came down and turned. Then she said she heard it pop," LHS coach Amy Turner said of Jensen's injury. Doctors later discovered she had a torn anterior cruciate ligament, as well as a torn meniscus.
The injury sent the Lions scrambling. They'd just lost their top setter and hitter. Now they had to change their entire offensive strategy. On a whim, Turner had to reorganize her squad from using a two-setter system to a one-setter system.
"We had to throw it all together at the last minute. It was difficult," she said. "The thing is, all of my girls are very close and they've played together since they were little, so their minds aren't completely on the game. They're on Kristen and how she's doing."
With Jensen out, that left teammates Katie Nietzke, Morgan Chiles, Sara Logan, Katie Smith, Brittney Lang, Elizabeth Cristiano, Amanda Darrow and Erin Griffen to carry the load.
Lansing went 0-3 at the Northwest tournament and then spent the next week adjusting to the new system. LHS showed progress during a mid-week triangular with Bishop Ward and Piper, but it still seemed out of sync.
As recently as practice on Friday the Lions still were struggling to put things together.
"This week has been pretty emotional, really up and down," Turner said. "And (Friday), honestly, we didn't practice very well so I was a little nervous coming in."
Then came the Kaw Valley League Tournament on Saturday at Mill Valley. Suddenly, the Lions clicked.
Lansing beat Santa Fe Trail, 25-11, 28-26, during its first match of pool play. Then it drilled Bonner Springs, 25-8, 25-7. After that it tied Perry-Lecompton, 25-19, 23-25, and tied Bishop Ward, 23-25, 25-14. Based on total games, Lansing's 6-2 record was just enough to advance to the semifinals.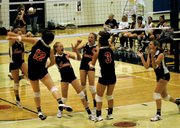 Lansing met Mill Valley in the semifinals. The Lions previously had struggled against the Jaguars, but this time they played with extra motivation. They wanted to win both for themselves and for Jensen, who was forced to watch from the bench with a bulky brace on her injured left knee.
Although Jensen couldn't play, her presence still was felt. She cheered for her teammates from the sideline, and she constantly was giving advice.
"She was telling Morgan when to hit line," Turner said of Jensen. "I was telling her during the game, 'you know what, after you get done playing volleyball you need to be a coach,' because she has great insight. She's telling the girls where to hit and sees the whole court while sitting down. She's doing a great job next to me."
The Lions (19-8-2) erased a 24-15 deficit in game one before ultimately falling, 28-26. The Lions picked up the intensity in game two. They used a balanced attack from Darrow, Griffen, Chiles and Lang to pull out a 25-23 victory. Then they shut the door on the Jaguars with a 15-6 win in game three.
LHS faced Bishop Ward in the finals, and the match proved to be equally dramatic. Lansing took a 13-8 lead in game one, but Ward rallied for a 26-24 victory. Then it was the Lions' turn to rally as they came from behind to take a 25-23 victory in game two. Ward then burst to an 8-3 lead in game three before Lansing stormed back for a 15-12 win.
"The one thing I said to them last night was 'you guys have to believe. You guys are a great group of girls. You can play volleyball. You just have to believe,'" Turner said. "Today they showed me they do believe."
They also showed themselves that they are capable of winning without Jensen in the lineup. In doing so, Griffen said the Lions now know they'll be OK.
"Winning league was one of our goals," Griffen said, "And we did it, regardless of the injury."