Lansing comes home
After three-game road trip,
LHS

to play Immaculata on Homecoming
Few things have gone right for the Immaculata football team this season, but that doesn't necessarily bode well for Lansing High.
The Raiders are low on numbers this year, and that has been a contributing factor to their 0-5 record. They've been outscored during that span, 166-46, a whopping 120-point difference.
All of those are reasons to believe that Lansing (4-1 overall, 3-1 Kaw Valley League) could win big in its Homecoming game at 7 p.m. Friday night at Frank Graham Field. Those also are reasons for LHS to be concerned, though.
Photo Gallery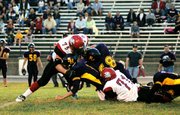 Lions drill Spring Hill, improve to 4-1
The Lansing High football team beat Spring Hill, 48-28, on Friday night at Spring Hill. With the win, the Lions improved to 4-1.
For one, Immaculata has proven it is capable of putting up a lot of points if its offense is clicking. The Raiders scored 20 points against Santa Fe Trail and Bishop Ward. The greater concern, however, is the fact that they always get up for games against Lansing. That alone is enough to garner the Lions' full attention.
"We can't underestimate them," senior fullback/linebacker Lance Fink said. "I went and watched them play the Ward game, and they put some points on the board. They can run the ball. With the 20 players that they have, they can still run the ball. We can't look past them."
It isn't likely that Lansing will overlook anybody for the rest of the season. It made that mistake in week two against Mill Valley, and the result was the Lions' only loss of the year. Since then they've won three straight in dominating fashion, beginning with a 27-13 win at Santa Fe Trail.
"That second half against Santa Fe, we just picked it up. We're ready to go now," LHS senior quarterback Matt Warner said. "IMAC is always going to be a hard game. It's a rivalry, man."
Lansing won last year's meeting, 13-7, but both teams played sloppy football and the Raiders kept things interesting until the final minutes.
"IMAC has been a team where it seems like you can get a lead on them and they never go away. They'll come back at you," LHS coach Bill Pekarek said. "Hopefully we can do a good job against them and play good football all the way around."
Lansing anticipates the Raiders will run the ball quite a bit, but the Lions expect to bring both a running game and an air attack. They've tried to use a balanced offense all season, but the passing game hadn't really clicked until last week's 48-28 victory at Spring Hill. In that game, Warner distributed the ball to six different receivers while completing nine of 16 passes for 176 yards and two touchdowns.
The running game was equally stellar against Spring Hill. Fink rushed for a career-high 148 yards on 17 carries and Kyle Grape ran the ball 19 times for 112 yards.