Pact reached on
LHS

-China exchange
Two principals from a school in Kaifeng, China, are in Lansing this week, taking in the sights of northeast Kansas.
Principal Wang Kai and vice principal Liu Peibing are visiting from Kaifeng No. 5 Middle School to complete negotiations on a proposed exchange between Lansing High School and the school in Kaifeng. Wang and Lansing assistant schools superintendent Donna Hughes were to sign an agreement Wednesday night at LHS, after the school's Homecoming chili feed and bonfire.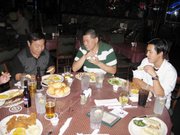 LHS Principal Steve Dike said the principals were visiting to learn more about the community where they plan to send students through an exchange program. In November 2004, Dike went with Hughes and several community business leaders to visit Kaifeng, where they plan to send three teachers and eight students in March as part of an exchange program. The program is partially funded by a grant from the Freeman Foundation.
From his experience, Dike said the Chinese principals would be checking out Lansing to see if they would be comfortable sending their students here. After visiting Kaifeng, he said he was not worried about sending Lansing students there.
"I did walk away feeling it would be a safe environment and a good place to experience that culture," Dike said.
While the principals are visiting, Dike said their Lansing hosts would try to show them that the city is "a community that's a good representation of central-United States values." He also said they would be able to see how the community and the schools are integrated here; in China, he said, the school is "an entity unto itself : not a cog of the community like it is in the United States." The visitors will see this played out the most on Friday, when they will attend the Homecoming football game.
"I'm pretty excited for them to experience American football, which is a unique part of American culture," Dike said.
Before they get to the football game, Dike will take the principals on a tour of LHS. He said they would visit a math, a science and a band class. Dike said Chinese schools don't have elective courses such as band. It is important for the visitors to see those classes, he said, because one reason they are interested in sending there students to the U.S. is to learn how to teach or encourage creativity in the classroom. Showing the principals a class like band could "go a long way in answering questions on how to teach creativity," he said.
Photo Gallery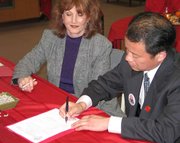 Lansing-China exchange program negotiations
Lansing High School and Kaifeng No. 5 Middle School signed an agreement on Wednesday to establish a student exchange program between the schools. Two principals from the Kaifeng school are visiting Lansing this week to see what their students will do when they come next year.
On Tuesday, when the principals arrived, they were treated to dinner at The Overlook, 720 First Terrace, accompanied by Hughes, insurance agent Dick Cameron and two student translators, Tang Lin, a junior at LHS, and Gelin "Green" Liao, a 2004 LHS graduate who is now attending Park University in Parkville, Mo.
Wang said through his translators that he wanted to learn more about LHS, the academics and the area during his stay. Vice principal Liu said he wanted to learn more about extracurricular activities and how to teach practical application of the materials learned in class.
"(Students in China) only learn the knowledge from the books, but they don't have a chance to practice them," Liu said.
Liu also said he wanted his students who come to Lansing to practice English and to learn about American classes, daily life and study life.
"We also want them to learn about how their peers think," he said.
During their stay, which lasts through Sunday, the visitors will travel around northeast Kansas and Kansas City to learn more about the area. Wednesday, the group toured the Capitol and Kansas History Museum in Topeka; today, they will visit the University of Kansas East Asian studies department and meet the dean of education at KU to learn more about the American education system. Friday, between their tour of LHS and the Homecoming festivities, the principals will visit historical buildings in Leavenworth and Fort Leavenworth and will tour a local horse ranch. They will visit Kansas City, Mo., on Saturday.
Hughes, who scheduled the itinerary, said she picked activities that "were most representative of Kansas."