Perfect season within grasp
Eighth-graders hope to win Tonganoxie Volleyball Tourney
The Lansing Middle School volleyball eighth-grade A team will attempt to close out an undefeated season when it steps on the court at 8:30 a.m. Saturday at the Tonganoxie Tournament.
The Lions have rolled through the season so far and have a 10-0 record to show for it. Team members are Abbey Lozenski, Madison Brandt, Lauren Jaqua, Breanne Sanders, Meghan Reilly, Kristen Gould, Lisa Angelo, Rachel Milnark and Tayler Dumlao. They are coached by Chris Elliott. The team is managed by Cameron Cox, Kelly Phillips and Gage Romane.
Photo Gallery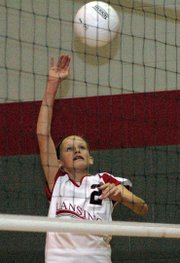 Eighth-grade volleyball beats Lexington Trail
The Lansing Middle School eighth-grade volleyball teams played Lexington Trail on Thursday at LMS. The A team is chasing an undefeated season.
Lansing's most recent victories came Monday when they defeated Tonganoxie, 25-19, 25-22, 15-10, and then beat Xavier, 25-7, 26-24, 15-8. Before that, they defeated Lexington Trail, 25-8, 25-11, 15-3, in their final home match.
The Lions have used a balanced offensive attack all season with Gould, Angelo, Dumlao and Milnark serving as the primary hitting threats. Sanders has been the primary setter.
The LMS B teams also have had a solid season. The Red squad posted a 5-0 record, including a 25-9, 25-17, 9-15 victory against Tonganoxie on Monday. The White squad went 1-4 and dropped an 8-25, 22-25, 11-15 match against Tongie.
White team members are Lauren Nudelman, Rebecca McMurphy, Jade Simmons, Heather Callahan, Kelsey Scharnhorst, Hannah Hemminger and Brittaney Smith.
Red team members are Anisha Patel, Cierra Slagg, Samantha Brammer, Bianca Castello, Lori Zetmeir, Whitney Forrest, Krystena McCrudden, Elle Hauver, Kari Kelly and Mary Lou Martin.
The Red and White teams are coached by Lori Norwood.